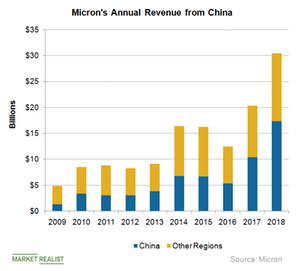 Cyclicality and China Pose a Risk to Micron's Future Growth
By Puja Tayal

Mar. 20 2019, Published 9:49 a.m. ET
Micron's cyclicality: Boon or bane?
In this series, we've learned that Micron (MU) is in a lucrative memory market, which has immense growth potential in the data center, automotive, embedded, mobile, and PC spaces. 
The memory market has few competitors and disciplined supply, but all businesses come with their own set of risks.
Micron is exposed to memory industry cyclicality. Memory is a commodity whose price is largely determined by demand and supply forces. Micron cannot command a higher price for its products, as there is little difference between its products and those of its competitors. It's looking to reduce the cyclicality by offering specialized memory solutions in areas in which its supply contracts are for longer terms, such as the data center and automotive spaces.
While memory market cyclicality does pose a risk of uncertainty, it presents investors with an opportunity to buy at a dip during downturns and earn windfall gains during upturns.
Article continues below advertisement
China
A bigger challenge for Micron is its high exposure to China (FXI). Micron earned 57% of its revenue from China in 2018. China has been looking to become self-sufficient in its manufacturing of memory chips. There have been several instances of Chinese companies stealing Micron's IP (intellectual property) to make their own memory chips.
Micron, Samsung (SSNLF), and SK Hynix stated that China lacks the IP and expertise to build its own memory chips. Even if China succeeds in manufacturing its own memory chips, it would lag behind in terms of technology and cost competitiveness. However, some analysts argue that cost is not a concern for China, as government subsidies are supporting its memory-development efforts. If China achieves self-sufficiency in memory, it will wipe out a large chunk of revenue for Micron and other memory chip makers.
While Micron is in a long-term growth trend, it's exposed to short-term cyclical downturns and possible competition from China.