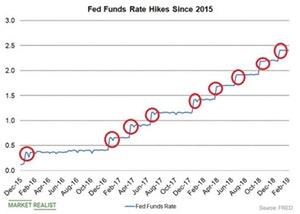 Could the Yield Curve Inversion Be a Self-Fulfilling Prophecy?
By Anuradha Garg

Updated
Fed's dovish stance
Another factor that added to the downward pressure on yields came after the Fed's more-dovish-than-expected take on future rate hikes. The Fed held its two-day policy meeting on March 19–20 and signaled no rate hike in 2019 compared to its expectation of two back in December 2018.
The Fed also lowered its projected rates for 2020 and 2021 by 50 basis points. After the Fed's meeting, the markets started expecting a rate cut as early as 2019's end.
After the weaker economic data and the Fed's U-turn, the S&P 500 Index (SPY), the Dow Jones Industrial Average Index (DIA), and the NASDAQ Composite Index (QQQ) fell 1.9%, 1.8%, and 2.2%, respectively, on March 22.
Article continues below advertisement
Inverted yield curve as a predictor
The inversion of the yield curve (TLT) (BND) may just be an indicator of the upcoming recession, but it's the curve's track record at predicting potential slowdowns that has investors worried. According to the Federal Reserve Bank of Cleveland, yield curve inversion has predicted each of the last seven recessions. The yield curve usually inverts a year in advance of an upcoming recession. There have, however, been false positives.
Self-fulfilling prophecy
What should even be more concerning for markets now is that the inversion and the upcoming recession could become a self-fulfilling prophecy. As markets grow more concerned about the inverted yield curve (AGG) and a possible recession, household and business confidence could wane, and business decisions could be postponed, making the loop stronger and increasing the risk of a recession.
As confidence in the markets is waning due to the current risk-off sentiment, gold (GLD) (NUGT) and other precious metals could attract bids. Read Could Gold Prices Rise as Market Concerns Increase? for more on this topic.