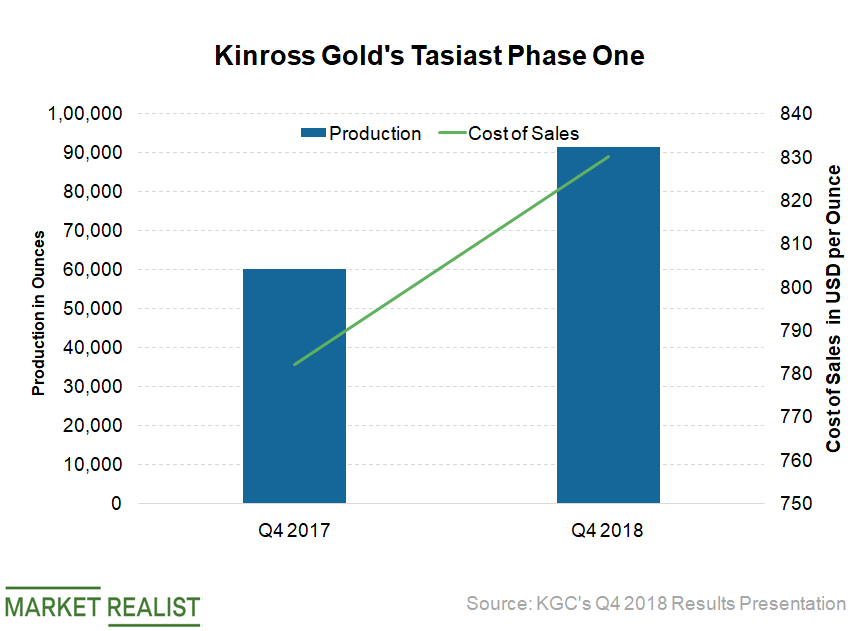 Can KGC's Projects Aid Its Production Profile in the Medium Term?
By Anuradha Garg

Mar. 13 2019, Published 11:01 a.m. ET
Tasiast expansion
The Tasiast expansion project is very important for Kinross Gold (KGC) when it comes to replacing its maturing production. The company completed the expansion of Tasiast Phase 1 in 2018, and it achieved record quarterly production in the fourth quarter of 2018. Its throughput averaged over 14,000 tons per day in the fourth quarter, ~20% higher than its nameplate capacity.
During Kinross's fourth-quarter earnings call, its CEO, Paul Rollinson, said the company was "undertaking a number of additional initiatives that are expected to result in meaningful cost and operational improvements at the mine."
Article continues below advertisement
He also said, "Phase 2 continues to be a viable option." Investors should note that the Tasiast Phase 2 expansion has been temporarily halted, mainly because the government of Mauritania is seeking to participate more in Kinross's activities in the country. Rollinson mentioned that the discussions are ongoing and that "it's important to highlight that throughout the process, Tasiast has continued to operate uninterrupted." The discussions are related to things such as tax issues, work permits for expats, and increasing opportunities for local suppliers.
In Geopolitical Concerns Overwhelm Kinross Gold, Stock Plunges 11%, we discussed that Kinross has weathered several geopolitical issues in the past.
Investors are hoping for a speedy and successful process of negotiations. Tasiast is important for Kinross not only for the replacement of its maturing production but also for its future production growth. The project is also expected to have lower unit costs than Kinross's overall operations, which should have a favorable impact on the company's unit costs.
Article continues below advertisement
Other milestones
Apart from Tasiast, Kinross is looking forward to a number of other milestones this year, including the following:
the commissioning of the Bald Mountain Vantage Complex
the completion of the Lobo-Marte scoping study in the first quarter
the start of commissioning for the Round Mountain Phase W processing circuit in the second quarter
the completion of the La Coipa Restart feasibility study
the start of stripping at Fort Knox in the third quarter