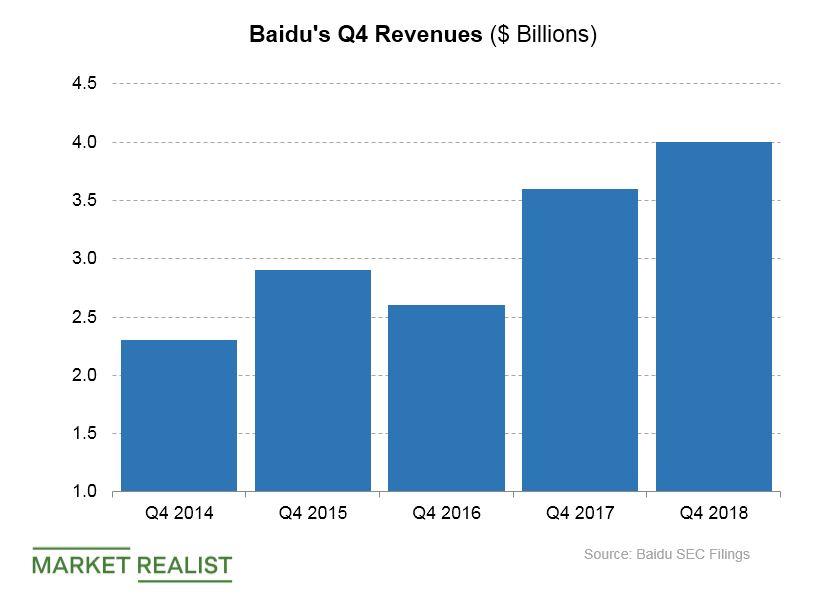 Baidu Was Criticized for Low-Quality News Search Results
By Neha Gupta

Mar. 5 2019, Published 8:03 a.m. ET
Low-quality news search results
Recently, Baidu's (BIDU) reputation in the search business has been scrutinized. There was outrage about the quality of Baidu's news search results. Baidu operates a news aggregation service known as "Baijiahao," which it launched in 2016 as a platform for publishers and journalists to connect with online readers. Prominent Chinese journalists accused Baidu of favoring low-quality Baijiahao articles in new search results at the expense of higher-quality publishers.
Journalist Fang Kecheng said, "Baidu no longer plans on being a good search engine. It only wants to be a marketing platform, and hopes to turn users searching for content into traffic for itself," according to Reuters.
Article continues below advertisement
Has Baidu become complacent?
Baidu doesn't have a lot of competition in China's Internet search engine market. The company handles three-quarters of all the Internet searches in China. Mobile devices, like smartphones and tablets, are used to access the Internet in China. Baidu dominates the mobile search market. Baidu's share of search queries originating from tablets was 93.2% in January, according to data from StatCounter. Microsoft's (MSFT) Bing was second with a 2.8% market share. Google (GOOGL), due to its Hong Kong operations, held 1.5% of the tablet search market. Sogou and Alibaba's (BABA) Shenma held 1.2% and 0.8% of China's tablet search market in February.
Some investors think that Baidu's tight control on China's search market made the company complacent. The market might need more competition. Google planned to return to China. However, the company doesn't have a firm plan to re-enter China's search engine market.
Baidu's revenues rose 22% YoY (year-over-year) to $4.0 billion in the fourth quarter ending in December. Google's parent Alphabet and Yandex (YNDX) increased their revenues 22% and 39% YoY, respectively, in the December quarter.