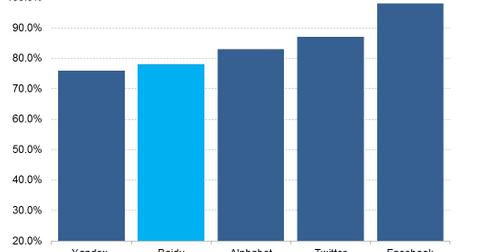 Baidu Sets Sights on Tesla's China Market
By Neha Gupta

Mar. 28 2019, Published 2:26 p.m. ET
China electric vehicle sales soaring
Baidu (BIDU) has partnered with Chinese automaker Chery to produce electric vehicles powered by its artificial intelligence software, according to a report from the South China Morning Post. The Chery sport utility vehicle powered by Baidu's DuerOS operating system is expected to go on sale in China in April.
Separately, Baidu led a nearly $450 million investment in Chinese electric vehicle startup WM Motor Technology. A WM Motor vehicle built in collaboration with Baidu is expected to enter the market in 2021. China is a hot market for electric vehicles thanks in part to favorable government policies. According to a report from CleanTechnica, some 1.1 million electric vehicles were sold in China in 2018. China's electric vehicle market is forecast to continue expanding with over 2.0 million electric vehicles expected to be sold in the country this year.
Article continues below advertisement
Tesla raises funds for China expansion
Baidu earns royalties from the use of its software, meaning that the company stands to reap huge benefits if Chery's vehicle powered by its software strikes a chord with Chinese vehicle buyers.
Baidu's partnerships with Chery and WM Motor mean it's wading into a scene that Tesla (TSLA) has sought to dominate. Given its rapidly expanding electric vehicle market, China is a key market for Tesla. Tesla recently secured a loan of more than $520 million from Chinese lenders to expand its operations in the country, according to a Bloomberg report.
Baidu business diversification
For Baidu, venturing into the electric vehicle market is part of its efforts to diversify its business. At the moment, Baidu relies on advertising for the bulk of its revenue. In the fourth quarter, for instance, Baidu derived 78% of its revenue from advertising. Yandex (YNDX) and Google parent Alphabet (GOOGL) derived 76% and 83% of their revenues from advertising in the fourth quarter, respectively. Facebook (FB) and Twitter (TWTR) derived 98% and 87% of their revenue in the fourth quarter from advertising, respectively.