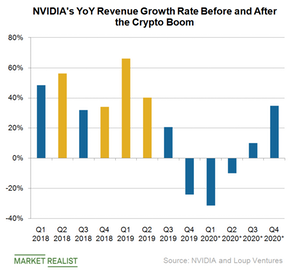 Analysts Find NVIDIA's Fiscal 2020 Guidance Aggressive
By Puja Tayal

Nov. 20 2020, Updated 3:24 p.m. ET
Analysts' views on NVIDIA's fiscal 2020 guidance
NVIDIA (NVDA) expects its fiscal 2020 revenue to be unchanged or decline slightly due to weak gaming and data center demand in the first half of the year. Some analysts find this guidance aggressive.
Article continues below advertisement
Loup Ventures
In a research note, Loup Ventures analyst Gene Munster wrote that he believes NVIDIA's fiscal 2020 guidance for a slight decline is "overly optimistic." He indicated that, assuming NVIDIA's revenue falls 2% YoY (year-over-year) to $11.49 billion in fiscal 2020 and its first-quarter revenue falls 30% as the company has guided for, its subsequent quarters' revenue should grow -10%, 10%, and 35% YoY, respectively. He finds 35% YoY growth to be unrealistic, as this level of growth was last seen during the cryptocurrency boom. He expects 20% YoY growth to be more realistic and sustainable through fiscal 2021. Beyond fiscal 2021, he expects sustainable revenue growth of 15% for NVIDIA.
However, before the second quarter of fiscal 2018, NVIDIA's revenue grew at an average YoY rate of 45% per quarter. Therefore, 35% YoY growth in the fourth quarter of fiscal 2020 doesn't seem unrealistic given that NVIDIA's base revenue in fiscal 2019's fourth quarter was only $2.2 billion, a level last seen in fiscal 2016.
Morgan Stanley
According to CNBC, Morgan Stanley analyst Joseph Moore stated that temporary factors wiped ~$1 billion from NVIDIA's fiscal 2019 fourth-quarter revenue, with gaming revenue bottoming out below $1 billion. He expects growth to resume in fiscal 2020, with gaming revenue reaching $1.4 billion and data center revenue from cloud companies growing ~30% YoY by the end of fiscal 2020.
Analysts remain optimistic about NVIDIA's long-term growth in gaming, AI, and autonomous driving. Rivals Advanced Micro Devices (AMD) and Intel (INTC) also expect demand to be weak in the first half of the year before picking up in the second half. Next, we'll look at NVIDIA's profitability.
Check out all the data we have added to our quote pages. Now you can get a valuation snapshot, earnings and revenue estimates, and historical data as well as dividend info. Take a look!