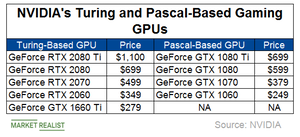 AMD and NVIDIA Launch New GPUs in 2019 to Boost Growth in Gaming
By Puja Tayal

Updated
2019 GPU launches of AMD and NVIDIA
Advanced Micro Devices (AMD) and NVIDIA (NVDA) started 2019 with the launch of their new gaming GPUs (graphics processing unit). AMD launched its high-end 7 nm (nanometer) Radeon VII Vega GPU priced at $699 in February, and it plans to launch its next-generation 7 nm Navi GPU in late 2019.
The 7 nm Navi will put AMD ahead of NVIDIA in the process node technology space, but it won't be able to compete with the latter in terms of ray tracing technology.
Article continues below advertisement
Meanwhile, NVIDIA is addressing the issue of premium pricing, which has slowed the adoption of its Turing-based RTX GPUs. It has launched the midrange RTX 2060 at $349 and the Turing-based GTX 1660 Ti without a ray tracing feature at $279. The company is expected to launch even cheaper Turing-based GPUs throughout the year. More real-time ray tracing–supported games are also coming up, which should increase the uptake of NVIDIA's RTX GPUs.
It remains to be seen whether AMD's new GPUs can compete with NVIDIA's real-time ray tracing Turing GPUs in 2019 and help AMD gain market share from NVIDIA.
AMD's CPU and NVIDIA's GPU in one laptop
Citing sources from PC OEMs (original equipment manufacturer) Acer, Asus, and HP (HPQ), a recent Wccftech article stated that these OEMs expect to launch laptops featuring AMD's 12 nm Ryzen CPU (central processing unit) and NVIDIA's 12 nm Turing GPU starting at $1,099. The report could be true, as AMD is allowing PC manufacturers to pair its Ryzen Mobile CPUs with NVIDIA's GTX 1660 Ti and RTX 2060 GPUs for a lower price.
The article stated that the above OEMs would offer a combination of AMD's Ryzen 3000 Series mobile CPU with NVIDIA's GTX 1660 Ti GPU starting at $1,099 and the Ryzen 3000 series mobile CPU with the RTX 2060 GPU for $1,299.
While AMD's CPUs will be built on Global Foundries' 12 nm node, NVIDIA's GPUs will be built on TSMC's (TSM) 12 nm node. AMD and NVIDIA are focusing on the notebook segment, as it's the fastest-growing segment in the declining PC market.