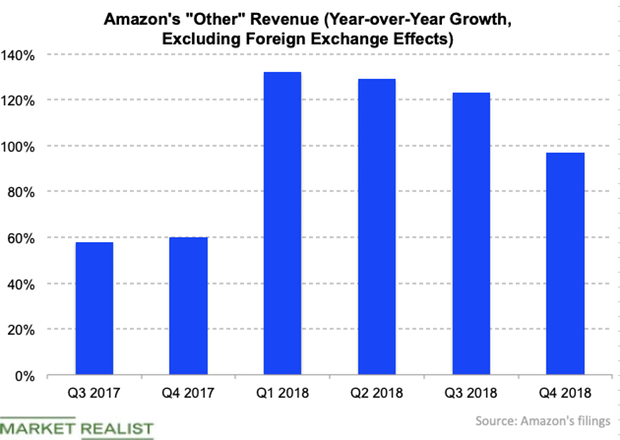 Advertisers Still Prefer Facebook and Google
By Sanmit Amin

Mar. 26 2019, Updated 9:49 a.m. ET
Amazon's ad business has been on a tear
Amazon's (AMZN) digital ad business has grown exponentially in the past year or so, which has caused a small dent on the duopoly of Facebook (FB) and Google (GOOG). Amazon's "other" business, which is mostly made up of its ad business, grew 95% YoY to $3.38 billion during the fourth quarter of 2018.
However, according to the latest estimates of eMarketer, advertisers are not put off by the duo despite privacy issues and find Facebook and Google appealing given their massive reach. The research house changed its estimate of the US market share held by these two companies in 2018. eMarketer now estimates that the duopoly had a 60.1% market share of the US digital ad spending in 2018 compared to the 57.7% it estimated in September 2018.
Article continues below advertisement
Amazon is projected to have an 8.8% market share in US digital ad spending
However, eMarketer also increased the estimate for Amazon's market share in the business in 2018 and 2019. Amazon's market share is expected to rise from 6.6% in 2018 to 8.8% in 2019, while the duopoly is expected to have a market share of 59.3% this year. Both Facebook and Google saw robust ad revenue growth last year, as advertisers seem to prefer these platforms. However, their ad revenue growth is clearly decelerating.
Meanwhile, Amazon has been aggressively posting related ads on users' product searches. While this move could upset some users, it has led to aggressive growth in the e-commerce giant's ad business.