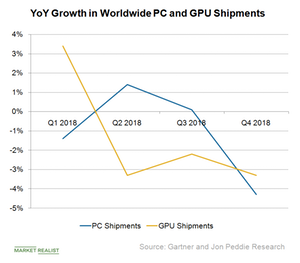 A Look at Micron's Opportunity in the PC Market
By Puja Tayal

Mar. 20 2019, Published 9:49 a.m. ET
Micron in the PC market
Memory is the biggest segment of the semiconductor industry, and its contribution is set to grow even further given the increasing need for high-performance computing and storage. PC is the traditional end market for memory, and it's still one of memory's biggest markets.
Micron Technology (MU) supplies PC DRAM (dynamic random-access memory) and GDDR (graphics double data rate) DRAM products for gaming GPUs (graphics processing unit) and client SSDs (solid-state drive) used in laptops and PCs.
Article continues below advertisement
The PC market
The PC market is a traditional one, and most of its sales are replacement sales. The replacement cycle has also lengthened. However, the growing adoption of high-resolution gaming, VR and AR (virtual and augmented reality), and other forms of visual computing is encouraging users to upgrade their PCs. PC shipment declines have slowed. Moreover, gamers are buying external graphics cards from NVIDIA (NVDA) and Advanced Micro Devices (AMD) for VR and high-resolution gaming capabilities.
As we can see in the graph above, PC shipments rose in two out of four quarters in 2018. PC demand rose as most enterprises upgraded their computers to Windows 10. However, PC shipments fell 4.3% in the fourth quarter of 2018 as supply shortages at PC CPU giant Intel (INTC) created an undersupply situation.
Article continues below advertisement
Micron's opportunity in PC memory
Micron earns from PCs in three ways: from the memory that goes inside the PC, from the GDDR that goes inside the discrete GPUs that are attached externally to the PC, and from the SSD, which some users attach externally.
According to Jon Peddie Research, the GPU attach rate was between 135% and 141% in all four quarters of 2018. GPU shipments rose in the first quarter of 2018 as cryptocurrency miners created a supply shortage of discrete GPUs. Miners attach GPUs externally to their PCs to mine currency. However, the crypto trend came to an end, which saw shipments fall in the subsequent quarters of 2018. GPU makers NVIDIA and AMD expect demand to resume in the second half of 2019.
The increasing amount of data is increasing the need for storage, encouraging PC makers to replace hard disk drives with SSDs. At its 2018 Investor Day event, Micron said that it expected SSD penetration in PCs and laptops to increase from 36% in 2017 to 81% in 2021 and SSD capacity to increase from 264 GB to 597 GB.
Next, we'll look at Micron's mobile opportunity.