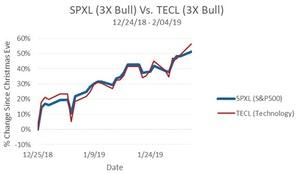 Will Tech Stocks Lead the Way in 2019?
By Direxion

Updated
Direxion
Will tech stocks continue to lead the way?
The NASDAQ Composite Index has led the major indices in 2019 with a return of 11.4% year-to-date. This outperformance date may be because it took it on the chin worse than the Dow Jones Industrial Average and the S&P 500 Index in the fourth quarter of 2018. But it may also be because the companies within it have much higher growth rates, on average than in the other indices and because they have much more to gain if a trade deal is reached with China, especially if the deal resolves the issues related to forced technology transfer.
Article continues below advertisement
Basically, investors tend to favor value and dividend stocks when they are uncertain about the direction of the market, but they tend to favor growth stocks when they are optimistic, and the tech sector is where investors go when they seek growth. Clearly, investors are optimistic about the trade negotiations with China and the overall economic environment, so tech stocks may very well continue to lead the way higher until a deal is reached, and they will likely soar when a deal is officially announced. But as of now, tech earnings growth does not look spectacular in 2019. Will we get a deal in China? Will Apple and others continue their comeback (including an earnings comeback)? TECL (3X Bullish) and TECS (3X Bearish) can help in either case. There is very little divergence here from the S&P 500 itself.
Market Realist
Will tech stocks lead the way in 2019?
2018 turned out to be a bad year for most asset classes. Neither the equity market or the bond market saw much growth. The technology sector, which usually drives the performance of the US stock market, also slowed down last year and declined 3.08%. The popular FAANG stocks also had an average year. While Amazon.com (AMZN) and Netflix (NFLX) showed double-digit growth of 28.4% and 39.4% in 2018, Apple (AAPL), Facebook (FB), and Alphabet (GOOGL) showed negative returns of ~7.0%, 25.7%, and 0.8%, respectively.
However, this year started on a positive note for the technology sector. The technology sector is up 11.2% year-to-date this year and was driven by benefits the sector could achieve from the trade deal with China. Many of the tech companies have businesses in China, and a trade war with China hampers the growth of these companies. Even the FAANG stocks have shown tremendous increases despite the challenges the individual companies are facing, and they seem to have a lot of room for growth this year. Facebook, Apple, Alphabet, Amazon, and Netflix are all up 26.0%, 8.0%, 8.0%, 9.0%, and 34.0% YTD, respectively, as of February 12.
However, after a reshuffling in September, the S&P Communications Services sector now includes stocks of Facebook, Alphabet, and Netflix, which we'll discuss in the next part.
Despite slower economic growth concerns in 2019, many analysts believe that the tech sector has growth potential and can still yield good returns. Either way, Direxion has you covered with the Direxion Daily Technology Bull 3X (TECL) and the Direxion Daily Technology Bear 3X (TECS).