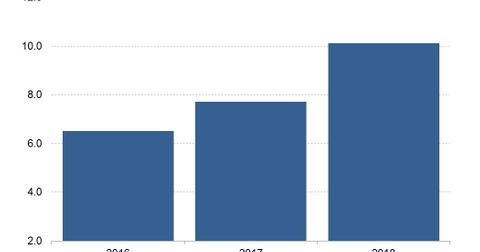 Will PayPal Continue Its Acquisition Spree in 2019?
By Neha Gupta

Updated
PayPal is ready to invest $3.0 billion in acquisitions annually
PayPal (PYPL) bought four companies in 2018, spending $2.7 billion on the transactions, according to Crunchbase data. Amazon (AMZN) made two acquisitions in 2018, the data show. For PayPal, 2018 marked one of its busiest years in the merger and acquisition market. The company bought only two companies in 2017.
The acquisitions that PayPal made last year were mostly made to strengthen the merchant side of its business. But PayPal also needs to strengthen its consumer business. In an interview with German newspaper Handelsblatt last year, PayPal CEO Dan Schulman said that the company was ready to invest as much as $3.0 billion per year in acquisitions, according to Reuters, which shows PayPal's intention to continue acquiring assets that add strategic capabilities. What about the financing required to close these transactions?
Article continues below advertisement
PayPal has the war chest to continue investing
PayPal exited 2018 with $10.1 billion in cash, and it expects to generate more than $3.0 billion in free cash flow in 2019. With that war chest, PayPal looks well equipped to continue purchasing assets that could add strategic capabilities to help it stay ahead of the competition. In addition to Square (SQ), which is waging a multipronged war, PayPal could face a stronger competitor in Fiserv (FISV), which is seeking to join forces with First Data (FDC) in a merger deal valued at $22 billion. The escalating competition raises the need for PayPal to continue replenishing its firepower.
PayPal said acquisitions drove 1.5% of its revenue growth in the fourth quarter. Its revenue rose 13% year-over-year in the quarter.