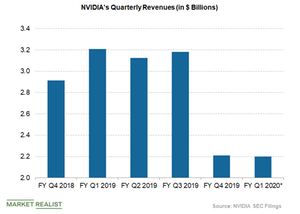 Will NVIDIA's Revenue Growth Continue to Slow in 2020?
By Sophia Nicholson

Feb. 19 2019, Published 12:30 p.m. ET
NVIDIA's revenue
NVIDIA (NVDA) reported better-than-expected revenue of $2.21 billion in the fourth quarter of fiscal 2019 after the market bell on February 14. While its revenue came in ahead of Wall Street's expectation of $2.20 billion, it fell 24.1% YoY (year-over-year) from $2.91 billion in the previous year's period. The YoY fall in the fourth quarter came after 13 consecutive quarters of double-digit revenue growth due to a fall in cryptocurrency demand, which had previously fueled its gaming business and driven its revenue.
Rival Advanced Micro Devices' (AMD) revenue of $1.42 billion came in behind the consensus estimate of $1.45 billion but rose ~6.0% YoY in the fourth quarter. Chip maker Intel (INTC) reported lower-than-expected revenue of $18.66 billion, a rise of only 9% YoY, in the fourth quarter of 2018.
Article continues below advertisement
Inventory issues and a slowdown in China dent revenue
On January 28, NVIDIA revised its fourth-quarter revenue guidance to $2.20 billion, down from its earlier guidance of $2.70 billion, due to the weaker-than-expected sales performances of its gaming and data center platforms amid a slowdown in China (MCHI) (FXI).
According to the chip maker, weakness in China—which has been accelerated by the US-China trade war and the drastic slowdown in cryptocurrency demand—has been negatively affecting its gaming sales. An inventory pileup of midrange Pascal GPUs (graphics processing unit) also pressured its gaming sales in the fourth quarter.
NVIDIA also didn't see a strong response to the high-end GPUs that use its new Turing architecture, and the company saw softness in its data center sales in the fourth quarter as consumers became more cautious in terms of hyperscale and cloud purchases.
Outlook
In the first quarter of fiscal 2020, NVIDIA expects its revenue to fall 31.4% YoY to $2.2 billion due to the inventory pileup issue with its gaming GPUs. Analysts expect its first-quarter revenue to be $2.216 billion. NVIDIA expects its fiscal 2020 revenue to remain flat or fall slightly. Analysts expect its fiscal 2020 revenue to be $11.09 billion.