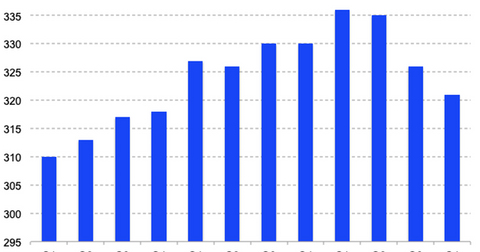 Why Twitter's Revenue Growth May Not Be Sustainable
By Sanmit Amin

Updated
Twitter has lost 15 million users in the last three quarters
Whereas Twitter's (TWTR) fourth-quarter financials did not disappoint, its user base growth has been a concern for years now. Twitter said it had 321 million MAUs (monthly active users) as of the fourth quarter and lost 5 million MAUs during the quarter, meaning the company has lost 15 million MAUs over the last three quarters. Some of those losses may have been due to the company's ongoing efforts to weed out bad actors and improve the quality of time spent on Twitter.
Article continues below advertisement
Twitter is weeding out bad actors, and advertisers don't mind
While weeding out bad actors requires resources, advertisers would support the action even if it dampens their reach, as they don't want to place their ads next to negative content. Twitter said user abuse reports fell 16% year-over-year in the fourth quarter.
Twitter's declining user base could soon impact its revenue growth. The company's underwhelming first-quarter outlook contributed to its stock falling ~10% on Thursday.
Twitter is set to stop divulging its MAU metrics—like other tech companies, it is getting less transparent as growth slows. Facebook said it will stop reporting its core platform's numbers and instead will report all of its apps' user base metrics combined, excluding overlaps. Apple (AAPL) has stopped disclosing its number of devices sold.