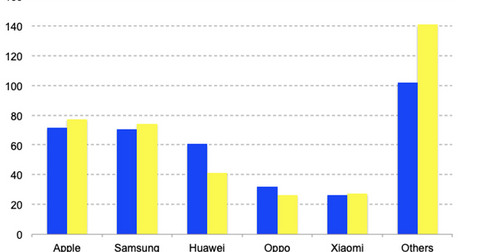 Why Average Selling Prices of Smartphones Actually Fell in Q4
By Sanmit Amin

Updated
While smartphone shipments fell in 2018, revenue growth was positive
It's widely known now that global smartphone sales were lackluster in 2018. Consumers were balking at the ever increasing prices of smartphones. Apple's (AAPL) revenue from iPhones fell a worrying 15% YoY in the December quarter. However, according to recent research by GfK, while smartphone shipments fell 3% from 2017 to 1.44 billion units, global smartphone revenue grew 5% in the same period to $522 billion due to higher prices for premium smartphones.
However, the research firm said that the average selling price (or ASP) during the fourth quarter of 2018 was $384, which was actually a decline of 2% from the same period in 2017.
Article continues below advertisement
Smartphone ASP actually fell YoY in the last quarter of 2018
GfK said that the fall was due to a lack of appealing innovation, which prolonged the replacement cycle. Apple's $749 iPhone XR was reportedly the most popular iPhone this time around, as many consumers refused to pay $999 and $1,099 for Apple's iPhone XS and XS Max, respectively.
The lower price for the iPhone XR was possibly a factor in dampening the ASP during the December quarter, which along with lower shipments, adversely affected Apple's growth in that quarter. However, Apple doesn't disclose XR sales or total shipments.
Samsung (SSNLF) and Huawei have beaten Apple to foldable smartphones, but the foldable models are expected to cost an astronomical $1,960 and $2,600, respectively. Unless they introduce radical changes in technology, smartphone vendors can't keep increasing their prices for too long.