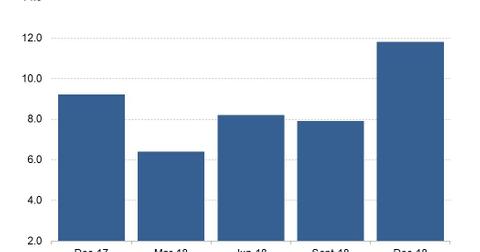 Why Alibaba May Want to Buy into Metro
By Ruchi Gupta

Updated
Metro operates dozens of retail stores in China
Alibaba (BABA) is in talks to purchase a stake in the Chinese operations of German retailer Metro, according to a Reuters report citing sources familiar with the deliberations. Purchasing a stake in Metro would deepen Alibaba's relationship with the German retailer given that the two have already partnered on an e-commerce initiative in China. Metro owns real estate assets in major Chinese cities and operates some 95 stores in China, the report said.
Article continues below advertisement
Metro's store network could be particularly attractive to Alibaba, which has been investing in physical stores as part of its new retail strategy that involves blurring the line between online and offline shopping. Alibaba already operates a chain of supermarkets in China under the Freshippo (formerly Hema) brand.
Physical stores as showrooms and pickup locations
Amid tightening competition for customers, some of the world's largest e-commerce companies have taken to opening physical stores, which they use as pickup locations for customers ordering online and as showrooms to showcase some of the hot items on their online stores. Amazon (AMZN), for instance, operates physical stores under brands such as Whole Foods, AmazonGo, and the Amazon 4-star store. Alibaba's domestic rival, JD.com (JD), also runs a portfolio of convenience stores, and its backer, Tencent (TCEHY), last year inked a wide-ranging partnership with French retailer Carrefour in China. JD.com also has a partnership with Walmart (WMT), the American retailer that operates hundreds of stores in China.
As they seek to capture more household expenditure, e-commerce companies like Alibaba are finding physical stores vital to their grocery strategy. Alibaba's China retail revenue rose 35% year-over-year to $11.8 billion in the December quarter.