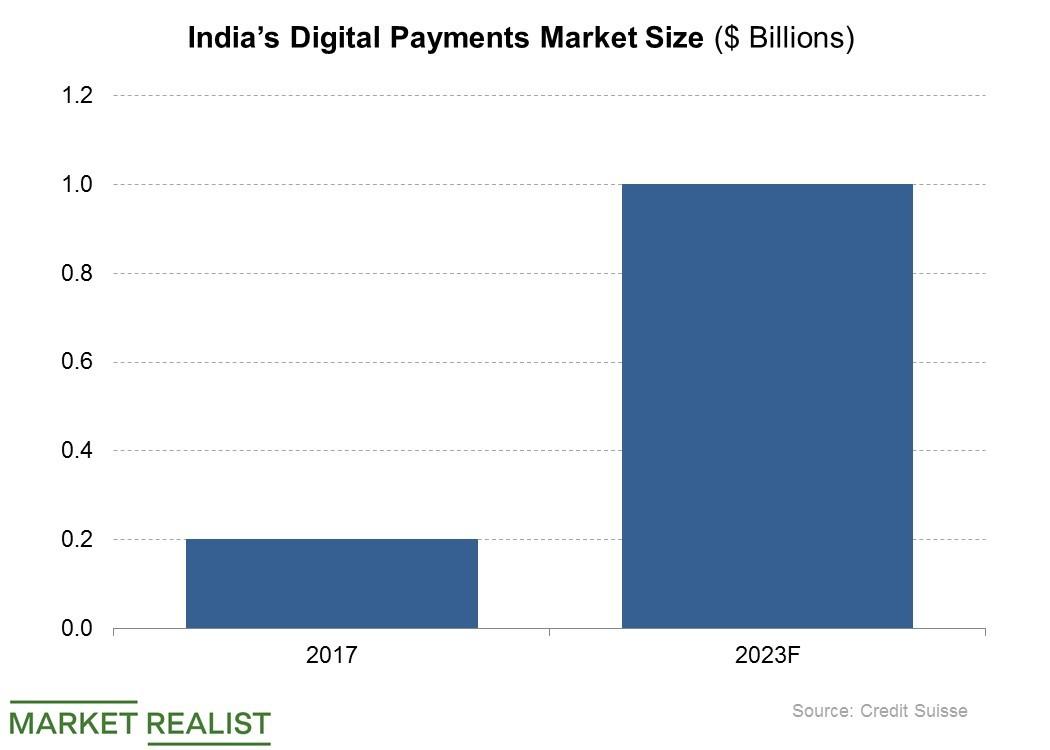 Where PayPal's India Unit Wants to Be by 2023
By Neha Gupta

Feb. 19 2019, Updated 1:35 p.m. ET
PayPal wants to dominate in India
Even in the face of escalating competition from the likes of Paytm, Amazon (AMZN), and Walmart-controlled (WMT) Flipkart, PayPal (PYPL) sees a bright future for its business in India. According to Quartz, PayPal head of India operations Anupam Pahuja said that PayPal wants to lead the digital payment market in India by 2023. To get there, PayPal aims to continue to seek strategic partnerships, such as collaborating with banks, to deepen its penetration in India. PayPal also wants to focus more on wealthier customers, who tend to prefer quality and safety of service to discounts.
Article continues below advertisement
PayPal India profitable since the start
PayPal's Indian unit has been profitable from the beginning, Pahuja revealed. The company launched domestic operations in India in November 2017, just a few months after Google (GOOGL) expanded in the country with its localized mobile payment service, Tez. Amazon also provides payment service alongside its e-commerce operations in India. Flipkart, a leading Indian e-commerce that Walmart bought into last year, runs a payment service, PhonePe. Paytm, backed by global corporate giants including Alibaba (BABA), collected ~$350 million in additional funding last year from Berkshire Hathaway (BRK) to support its expansion in India's digital payment space.
Facebook (FB) also has its sights on India's digital payment market. The company has been experimenting with a mobile payment service in India through its WhatsApp platform. India's digital payment market is expected to grow five-fold to $1.0 trillion by 2023, according to Credit Suisse predictions cited by The Economic Times.