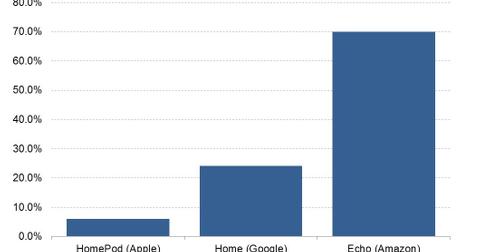 What the Pennsylvania Lawsuit Could Cost Verizon
By Ruchi Gupta

Feb. 15 2019, Updated 7:31 a.m. ET
Lawsuit wants Verizon to forfeit revenue
Pennsylvania's attorney general recently sued Verizon (VZ), accusing the company of failing to deliver the perks it had promised new customers in the state. Around November last year, Verizon introduced a promotional offer whereby new customers who signed up for a two-year contract would receive perks, including a free Amazon (AMZN) Echo device.
Customers who responded to the promotion were to receive emails on how to claim the free Echo device 31 days after they signed up for a contract. However, Pennsylvania's attorney general, Josh Shapiro, claimed that Verizon had failed to meet its part of the bargain, frustrating its customers. According to Shapiro, Verizon's actions amount to a violation of Pennsylvania's consumer protection law, and he wants the company penalized. Among other things, Shapiro wants Verizon to be fined $1,000 for every violation and penalized another $3,000 for every violation where the affected customer is 60 years or older. The lawsuit also seeks to force Verizon to forfeit all the revenue it generated from the now-controversial promotion.
Verizon has defended itself against Shapiro's allegations, saying that it only faced a technical issue that made it difficult for some customers to claim their perks and that it had fixed that problem, according to a report from the Verge.
Article continues below advertisement
Operators enticing customers with perks
The lawsuit aside, Verizon's promise of perks such as the Echo to new customers shows the extent mobile operators are willing to go to in order to grow their customer bases. The Echo is made by Amazon and is the most popular smart speaker device in the United States, with a 70% market share compared to 24% for Google's (GOOGL) Home speaker, according to data from Consumer Intelligence Research Partners.
To entice customers to join or stick with their networks, AT&T (T) and T-Mobile (TMUS) have partnered with the likes of Spotify and Pandora on free music-streaming perks for some of their subscribers.