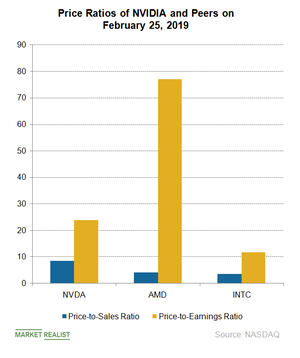 What NVIDIA's Declining Stock Valuation Means for Investors
By Puja Tayal

Mar. 1 2019, Updated 9:01 a.m. ET
NVIDIA's stock valuation
NVIDIA (NVDA) stock has started to recover from its four-month-long technical weakness. The stock rose 15% since January 28 as the company announced slightly better earnings than its revised estimate and launched several mid-range gaming GPUs (graphics processing units)—RTX 2060 and GTX 1660.
NVIDIA's long-term growth opportunities in gaming, artificial intelligence, automotive, and professional visualization remain intact. However, the company's short-term earnings are troubled amid the demand weakness in gaming and data center markets. The macro-economic uncertainty made NVIDIA cautious about its outlook for fiscal 2020. NVIDIA's declining stock price and slowing earnings growth has impacted its stock valuation. A stock's valuation tells us if a company's stock price is in line with its fundamentals.
Article continues below advertisement
Price-to-sales ratio
A stock's PS (price-to-sales) ratio tells us the amount investors are willing to pay for every dollar of a company's sales. NVIDIA's PS ratio more than halved to 7.7x on January 31 from 15.9x a year ago, even though its fiscal 2018 sales rose 20.8% year-over-year. The PS ratio fell as the stock price fell 41% over the anticipation of weak fiscal 2020 earnings.
NVIDIA expects its revenue to remain flat or fall in fiscal 2020, whereas analysts expect the company's sales to fall 4.7% during the year. NVIDIA's 7.7x PS ratio is lower than Intel's (INTC) and Advanced Micro Devices' (AMD) ratios of slightly above 3.0x, making the former more expensive than its peers. Analysts expect Intel's revenue to remain flat in 2019 with a potential of a downturn.
Price-to-earnings ratio
A company's PE (price-to-earnings) ratio tells us the amount investors are willing to pay per dollar of EPS (earnings per share). During NVIDIA's multiyear growth phase, NVIDIA's PE ratio rose from 37.2x on July 31, 2016, to 51.0x on January 31, 2018. It's currently trading at a PE ratio of 24.7x. NVIDIA's PE ratio is lower than AMD's 77.3x but higher than Intel's 11.8x.
Analysts expect NVIDIA's EPS to fall 19% year-over-year in fiscal 2020. They expect Intel's EPS to fall 0.4% and AMD's EPS to rise 41% in calendar 2019.
NVIDIA's valuation is lower than AMD's but higher than Intel's, making it attractive for long-term investors, given its longer-term growth opportunities. Another appeal of NVIDIA's is its efficiency ratio. We'ill look into this ratio in the next part of this series.