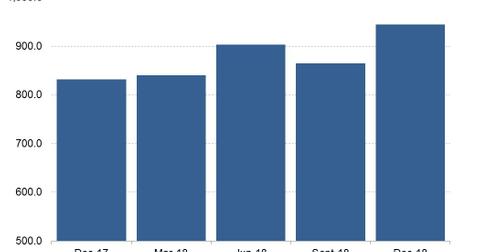 What Is Alibaba Getting in Bilibili Deal?
By Ruchi Gupta

Updated
Alibaba finds entertainment and retail complementary
Alibaba (BABA) recently bought a stake of 8.0% in Bilibili (BILI), Xinhua reported. Alibaba made the purchase through its Taobao unit, the report stated. Bilibili is one of China's top online sharing platforms. In addition to the investment, Alibaba also struck a partnership deal where its Taobao unit will collaborate with Bilibili in several areas.
Alibaba on its own runs a digital media and entertainment business including brands such as Youku, a YouTube-like online video service. The business generated $944 million in revenue for Alibaba in the December quarter. Last year, Alibaba expanded its presence in the entertainment space by taking control of Alibaba Pictures, a Hong Kong-listed film production firm. In a recent investor briefing, Alibaba shared more details about its vision for Alibaba Pictures and indicated that its e-commerce and entertainment operations are complementary, which could be a reason behind the company's decision to purchase a stake in Bilibili.
Leveraging entertainment to drive retail gains
Amazon (AMZN) is another company whose actions have demonstrated that there are synergies between entertainment and retail operations for e-commerce companies. The company provides free digital video and music entertainment for its Prime customers, who pay an annual subscription fee of $119 to unlock the perks. Prime members generally spend more than regular customers on Amazon retail purchases.
With Bilibili, Alibaba is getting exposure to one of China's fastest-growing online video services. Bilibili had 92.7 million monthly active users, consisting of 3.5 million paying subscribers, at the end of September. Paying subscribers increased more than 200% from a year ago. Bilibili makes money through avenues such as selling subscriptions and ad-supported video services. It competes with the likes of iQiyi (IQ), which had around 80 million paying subscribers at the end of September. iQiyi was a unit of Baidu (BIDU) before it went public last year. Baidu controls more than a 90% voting share in iQiyi.