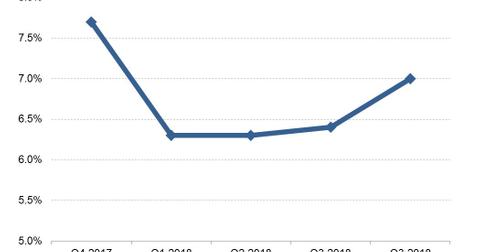 What Could Drive Sirius Going Forward?
By Ruchi Gupta

Feb. 4 2019, Published 3:57 p.m. ET
Sirius bought Pandora for $3.5 billion
Sirius XM (SIRI) looks forward to a much brighter future with Pandora, which it acquired for $3.5 billion. According to Sirius CEO Jim Meyer, the addition of Pandora significantly expands the company's audience base to more than 100 million listeners, consisting of nearly 40 million paying subscribers and about 75 million listeners that can be monetized through advertising.
"Our combination with Pandora completely changes the game and gives us vastly more scale outside of the car in a way that we think is completely complementary to our existing efforts at SiriusXM," the executive told investors during a conference call to discuss fourth-quarter results.
Article continues below advertisement
Connected vehicle deals
As it begins the absorption of Pandora, Sirius painted a rosy outlook for its future, saying Toyota (TM) has agreed to make all its new cars with its service built into them right from the factory. The Toyota deal will run for ten years until 2028. At the same time, Sirius revealed expanded partnerships with General Motors (GM) and Nissan (NSANY), which already make new cars with its service built into them.
Revenue jumped 7.0%
Sirius generated $1.5 billion in the fourth quarter, an increase of 7.0% YoY. The company's profit jumped to $251 million compared to $37 million a year ago.
The merger with Pandora now means Sirius is taking over from where Pandora left off in its battle with Spotify (SPOT) and Apple for music subscribers. Spotify last year secured a deal to be the default music app on Samsung (SSNLF) devices, a deal that could greatly extend its reach given that Samsung is the world's top smartphone vendor and a leading television maker. Apple has partnered with Verizon (VZ) to help extend the reach of its Apple Music service.