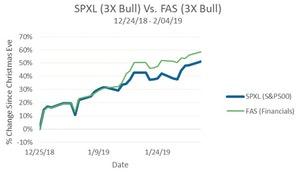 What 2019 May Have in Store for Financial Sector
By Direxion

Feb. 25 2019, Updated 4:25 p.m. ET
Direxion
Are the financials finally in favor?
Going into 2018, a lot of "experts" said that banks would be the primary beneficiaries in a rising rate environment, but that simply was not that case. Why? Because while gradual rate hikes are good for banks, rapid increases are not. The rapid increase in rates caused fixed-income assets like bonds, which make up the majority of the assets on banks' balance sheets, to decrease in value, and the benefits from higher rates like being able to charge more for loans could only partially offset this decrease.
Article continues below advertisement
Fortunately, the Fed has stated that it will take a more cautious approach to rate hikes in 2019, which means banks will finally have time to capitalize on the increase in rates without worrying about the negative impact of more increases in the near future. So does a lowering of rates portend well for the financials? Load growth should pick back up, but interest carry should get worse. Either way you see it, Direxion has the product for you: the FAS (3X Bullish) and FAZ (3X Bearish) financial leveraged ETFs. Take a look at this bounce-back with 3X bullish financials up a whopping 60% since the Christmas sell-off.
Market Realist
Where are financials heading in 2019?
The financial sector saw some positive growth after the presidential elections and earned returns of 17.12% in 2017 driven by tax reforms, rate hikes, and earnings growth. Interest rate hikes usually boost lending activity for banks and drive their net interest income.
However once the rate hikes picked up speed in 2018, it took a toll on the banking sector, as a rapid increase in interest rates reduces the value of bonds. The industry suffered last year and declined ~15.0%. A rapid rise in rates could further hamper the sector's growth. Being a growth-oriented sector, challenges to economic growth could also dampen the financial sector's growth.
However, in December 2018, the Federal Reserve indicated that there could be two rate hikes in 2019 driven by a weakening global economy. Last month, CNN reported that Fed Chair Jerome Powell mentioned that the Fed had decided so far on two rate hikes in 2019. However, the central bank could choose otherwise if necessary. This year, the sector had risen 9.4% YTD as of February 12.
With the number of rate hikes decreasing this year, investors have to keep a watch on how that will affect the financial sector. Either way, Direxion offers options with the Direxion Daily Financial Bull 3X ETF (FAS) and the Daily Financial 3X Bear ETF (FAZ).