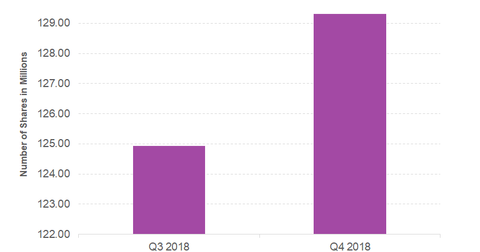 Warren Buffett's Firm Earns $3.8 Billion in Dividends in 2018
By Jitendra Parashar

Updated
Warren Buffett's views on Trump's trade war
Previously in this series, we saw that popular investor Warren Buffett believes that America should rejoice in other countries' economic growth. Buffett thinks that other nations' economic growth will also make Americans "more prosperous and safer." His view comes at a time when many American businesses are struggling in China due to the US-China trade tensions. On December 13, 2018, in an interview with Fox News, President Donald Trump tried to justify his tariff moves and implied that the outcome of the US-China trade war would ultimately benefit the US. He added, "China's economy if it's in trouble, it's only in trouble because of me…We've taken in 11 billion dollars worth of taxes on China…in the last four months."
Article continues below advertisement
Berkshire Hathaway's earnings from dividends
In Berkshire Hathaway's (BRK-B) annual shareholder letter, Buffett revealed that his investment firm received dividends of about $3.8 billion from its investees in 2018. He believes that this huge amount of dividends is likely to increase further in 2019.
Nonetheless, Buffett gives more importance to the huge earnings retained by the companies he has invested in. He mentioned retained earnings and dividends from five of the largest holdings of Berkshire Hathaway.
In 2018, American Express (AXP) paid nearly $237 million to Berkshire Hathaway in dividends, while the investment (SPY) firms' share in AXP's retained earnings was $997 million. Apple (AAPL) paid nearly $745 million to Buffett's investment firm in dividends, and about $2.5 billion was its retained earnings share in 2018.
On a combined basis, Apple, American Express, Bank of America (BAC), Coca-Cola (KO), and Wells Fargo (WFC) paid about $3.0 billion in dividends to Berkshire Hathaway last year. At the same time, Berkshire's share in these companies' retained earnings was $6.8 billion.
In the next part, we'll take a look at Warren Buffett's advice to investors.