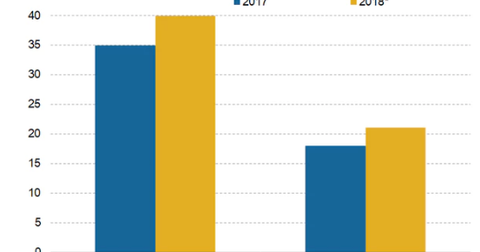 Verizon Invests Big in 5G after Media Business Disappointment
By Ruchi Gupta

Updated
Oath's dwindling prospects
Verizon (VZ) has spent billions of dollars in recent years trying to spearhead the digital age of content consumption. It all started with a $4.4 billion acquisition of AOL as it sought to delve deeper into the advertising business. The company later on spent $4.8 billion to acquire Yahoo assets as it tried to affirm its credentials as an Internet giant.
With the acquisition of AOL and Yahoo, Verizon unveiled Oath, a unit dedicated to its media operations. Now the crowding of the media and entertainment sector has once again dashed Verizon's ambitions of generating revenues of up to $10 billion by 2021. The company has also confirmed plans to take an impairment charge of $4.6 billion, as its prospects in the media space have turned sour. The wireless company has since confirmed plans to lay off as much as 7% of its workforce in the media group. The layoff will affect about 800 people as part of a cost-cutting drive as the company looks to reorganize its operation in response to soaring competition.
Article continues below advertisement
Competition threat
The reorganizations underscore the fact that Version did underestimate the threat posed by content generating and distributing companies. Facebook (FB) and Alphabet (GOOG) are some of the companies that Verizon has found hard to compete against, especially on the advertising front.
In response to the dwindling opportunities in the media space, Verizon has set sights on mobile technology, an area in which it remains confident of generating opportunities for growth. The development of the 5G network that boasts of fast Internet speeds is an area where the wireless company is investing big as it looks to stay ahead of the pack.
A reduction of expenses on Oath should allow Verizon to focus on 5G technology as it looks to be at the center of device interconnection on the Internet. 5G service should allow the company to unlock significant revenue opportunities on increased consumption of digital video services.
Verizon should be able to make more data sales and generate more revenues. 5G network investments should also allow the company to take AT&T (T) and T-Mobile (TMUS) head on in the race for customers. Initial estimates indicate 5G wireless subscriptions will reach highs of 545 million by 2022.