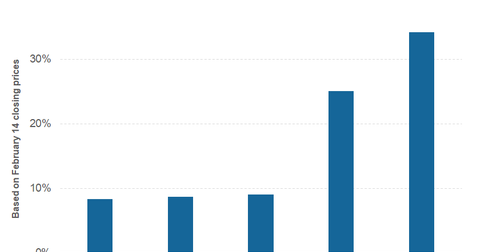 US-China Trade Talks: Have 'Miles and Miles' Been Covered?
By Mohit Oberoi, CFA

Feb. 19 2019, Published 8:13 a.m. ET
US-China talks
As discussed in the previous article, the Chinese delegation will visit the United States this week for another round of trade talks.
After the previous round of talks between the two countries, China released a statement that said they'd "had in-depth discussion on topics of mutual concerns including technology transfer, intellectual property rights protection, non-tariff barriers, the service industry, agriculture, trade balance and implementation mechanism."
Article continues below advertisement
Key US demands
The statement also added, "Both sides reached principle consensus on major issues and had specific discussions about the memorandum of understanding on bilateral economic and trade issues." The United States (QQQ) and China (BABA) (FXI) have had differing perceptions of China's trade practices, which has been reflected in the statements following the talks. Last month, US Commerce Secretary Wilbur Ross said that the US was "miles and miles" away from a trade deal with China. However, with China agreeing to key US demands apart from the massive trade surplus in China's favor, it would be fair to assume that the talks seem headed in the right direction.
US statement
The Chinese statement now looks closely aligned with the US statement. After talks concluded in Washington last month, the United States said that the trade talks mainly covered seven points. The points included forced technology transfers, intellectual property rights, the tariff and nontariff barriers faced by US companies doing business in China, China's cyber warfare, massive state subsidies, industrial overcapacity, "market barriers and tariffs that limit United States sales of manufactured goods, services, and agriculture to China," and currency manipulation.
Several US companies (GE) (IBM), including Walmart (WMT), Facebook (FB), Alphabet (GOOG), and Amazon (AMZN), have opposed the tariffs on China. Apple (AAPL) and NVIDIA (NVDA) have said that China's slowdown has hurt their earnings.
Read Trump Might Be Getting Close to 'The Biggest Deal Ever Made' for more analysis on US-China trade talks.
You can also read China's Slowdown: Analyzing the Knowns and Unknowns for further analysis of China's slowdown.