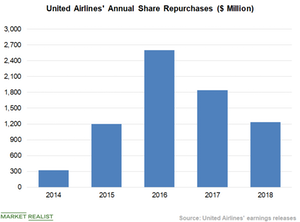 United Airlines' Increased Capital Return Plan
By Anirudha Bhagat

Feb. 12 2019, Updated 7:31 a.m. ET
Share repurchases
United Airlines (UAL) has always tried to enhance shareholders' wealth through share repurchases. After initiating its first share buyback program in 2014, the company has repurchased ~$6.9 billion worth of its common stock until the end of 2018.
The airline bought back $1.2 billion worth of common stock in 2015, $2.6 billion in 2016, $1.8 billion in 2017, and $1.2 billion in 2018. Except for a few months in 2018, airline (IYT) companies have been enjoying the benefit of lower fuel prices for the past few years, which improved their profitability and free cash flow.
Many companies think that share buybacks are a more tax-efficient way to enhance shareholders' wealth compared to paying dividends. Since share repurchases lead to a decline in the number of outstanding shares, they boost the company's EPS.
Article continues below advertisement
In December 2017, United Airlines' board approved a share repurchase program worth $3 billion, which was ~17% of the company's market cap of $18 billion at the time of the announcement. Under the current authorization, the company bought back more than $1.2 billion worth of its common stock in 2018.
United Airlines' huge cash balances and cash flow generating ability provide it with the financial flexibility to undertake shareholder-friendly initiatives. At the end of 2018, the company had ~$4 billion in cash, cash equivalents, and short-term investments. During the year, United Airlines generated $6.2 billion of cash flows from operating activities.
United Airlines' peers
A strong domestic travel demand environment and lower oil prices caused US air carriers' net income and cash flows to grow immensely in the last four years. As a result, airlines have enhanced their capital return policies.
In the last few years, United Airlines' top peers have also increased their dividend payments and share repurchases. Delta Air Lines (DAL), Southwest Airlines (LUV), and American Airlines (AAL) returned $2.5 billion, $2.3 billion, and $986 million, respectively, to shareholders in 2018 through dividend payments and share buybacks.