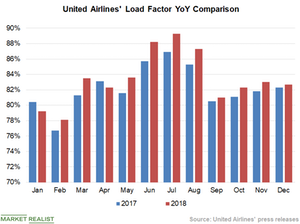 UAL: Disciplined Capacity Additions Drive the Load Factor
By Anirudha Bhagat

Updated
Utilization rate
United Airlines' (UAL) traffic driving initiatives including disciplined capacity additions, promotional offers, and marketing strategies have helped improve its load factor or utilization rate. The airline saw its utilization rate expand by 100 basis points YoY (year-over-year) to 82.7% in the fourth quarter. Last year, United Airlines' load factor grew by 120 basis points to 83.6%.
An improvement in the load factor signifies efficient use of the capacity, which would likely have a favorable impact on the airline's unit revenues. The company's utilization rate has been improving for the last eight months and for four consecutive quarters.
The load factor of United Airlines' top peers (IYT) including Delta Air Lines (DAL) and Southwest Airlines (LUV) have fallen by ten basis points and 50 basis points, respectively, in 2018. American Airlines (AAL) reported that its utilization rate improved by ten basis points in 2018.
Article continues below advertisement
Improving yields and unit revenues
United Airlines' disciplined approach toward enhancing capacity is driving the company's passenger revenue yield. The third-largest US air carrier posted improved yields in all four of the quarters in 2018.
The company's yields for the first, second, third, and fourth quarters were 16.35 cents, 16.48 cents, 15.96 cents, and 16.77 cents, respectively. On a YoY basis, the quarterly yields improved 1.7%, 1.5%, 4.1%, and 3.8%, respectively. As a result, United Airlines' unit revenues also improved. The airline registered YoY growth of 3.4%, 2.8%, 4%, and 5%, respectively, in its first, second, third, and fourth-quarter unit revenues.
United Airlines reported a yield of 16.38 cents for fiscal 2018, which was 2.8% higher than the yield of 15.93 cents it posted in 2017. The airline's unit revenues for the year increased 4.3%.
Delta Air Lines, American Airlines, and Southwest Airlines have reported YoY growth of 2.7%, 1.8%, and 0.8%, in their respective passenger yield in 2018.