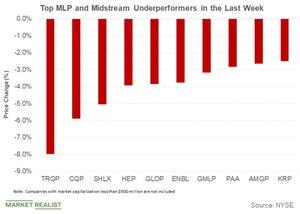 TRGP, CQP, and NBLX: Top Midstream Gains and Losses
By Rekha Khandelwal, CFA

Dec. 4 2020, Updated 10:53 a.m. ET
Top losses
Targa Resources (TRGP) was the top midstream underperformer last week. Targa Resources fell 8.0% for the week. The company reported its fourth-quarter results last week. Including a goodwill impairment charge of $210 million, Targa Resources reported a net loss of $106 million for the fourth quarter. The company's adjusted EBITDA was $376 million for the fourth quarter—compared to $328 million for the same quarter the previous year.
Article continues below advertisement
Targa Resources' coverage ratio for the fourth quarter was below 1.0x with a distributable cash flow of $214 million compared to total common dividends of $211 million and total preferred dividends of $23 million for the quarter. The company announced a 2019 growth capital expenditure guidance of ~$2.3 billion.
Cheniere Energy Partners (CQP) fell 5.9% last week. On February 22, J.P. Morgan cut Cheniere Energy Partners' rating from "overweight" to "neutral." We'll take a look at analysts' recommendations for Cheniere Energy Partners in the next part of this series. Cheniere Energy (LNG) is scheduled to report its fourth-quarter results on February 26. For an earnings preview, read What to Expect from Cheniere Energy's Q4 Earnings.
Top gains
Noble Midstream Partners (NBLX) rose 9.3% for the week due to its strong fourth-quarter results. Teekay LNG Partners (TGP), Dorchester Minerals (DMLP), and USA Compression Partners (USAC) were among the other top MLP gains last week.
Among the large capitalization stocks, Kinder Morgan (KMI) rose 2.8%, while Energy Transfer (ET) rose 2.1% last week.
Next, we'll discuss the rating updates for MLP and midstream stocks last week.