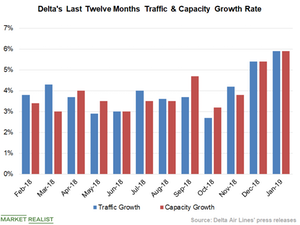 Transatlantic Focus Strategy to Drive Delta's Unit Revenue
By Anirudha Bhagat

Feb. 13 2019, Updated 11:40 a.m. ET
Transatlantic route focus
Delta Air Lines (DAL) has been making route realignments to focus more on its most profitable transatlantic route. For this, the company is adding more capacity to its fleets in transatlantic markets while reducing the same across the Pacific and Latin American regions.
The transatlantic route mainly connects flights between the United States and Europe.
Delta Air Lines is adding capacity to capitalize on the growing opportunities provided by an improving global economy, mainly in the United States and Europe. A healthy job market and a steady rise in wages are driving travel demand in the United States. The strategy will also help the company lower fleet costs and compete aggressively with low-cost carriers (XLI).
Article continues below advertisement
Last year, Delta Air Lines enhanced its capacity in the Atlantic region by 2.7%. However, it reduced its capacity across the Latin American and Pacific regions by 0.5% and 1.5%, respectively. In January 2019, the company increased its capacity in the Atlantic region by 6.1% while contracting its capacity by 0.3% in the Latin American region.
Delta's strategy has helped it improve its unit revenue, or TRASM (total revenue per available seat mile). During 2018, the company's TRASM rose 4.3% YoY (year-over-year) to 16.87 cents from 16.18 cents a year earlier.
This growth rate was higher than those of its top peers United Airlines (UAL) and American Airlines (AAL), which reported TRASM rises of 4.2% and 2.4%, respectively. Southwest Airlines (LUV) was the worst performer among major US air carriers with a YoY fall of 0.4% in its 2018 TRASM.
For the first quarter of 2019, Delta expects to increase its capacity by ~4% and projects that its TRASM will improve in the flat to 2% range YoY.
Traffic matches capacity
Delta Air Lines' capacity additions have remained in line with its ability to drive traffic. The company reported traffic growth in every month of 2018 except January. Last year, the air carrier's traffic growth rate was 3.5%, almost on par with its capacity growth rate of 3.6%. The company's January 2019 traffic growth of 5.9% was also in line with its capacity growth rate.
Lower airfares have been a key growth driver for Delta Air Lines' traffic for the past three years. Further, lower fuel costs compared to 2018 levels are expected to lead to a reduction in input costs for Delta, which should help it continue offering low airfares to its customers.