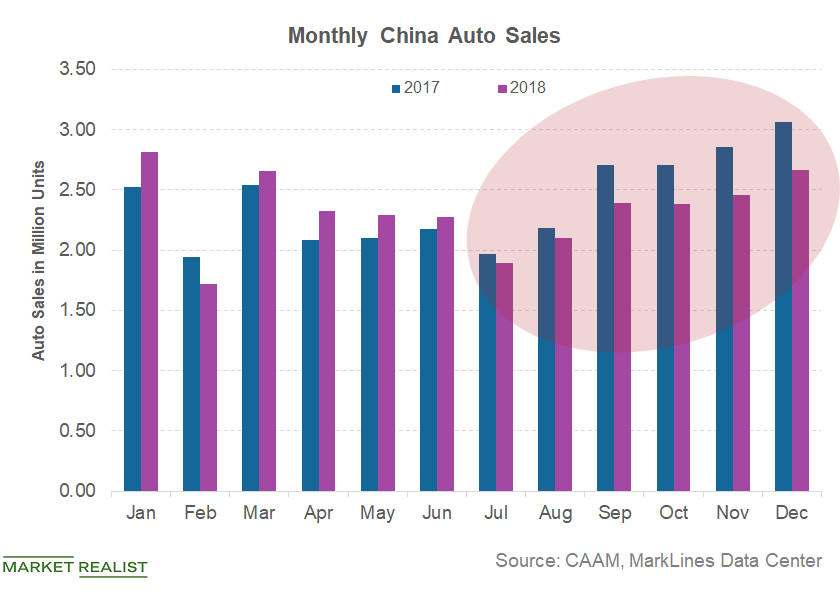 Top Analysts' Opinions on Tesla's Future Plans in China
By Jitendra Parashar

Feb. 22 2019, Published 12:19 p.m. ET
Tesla's fourth quarter
In the previous article, we looked at electric carmaker Tesla's (TSLA) recent stock price movements. In the fourth quarter of 2018, Tesla yielded a solid return of 25.7%, outperforming the broader market and its peers by a wide margin.
Peers General Motors (GM), Ford Motor Company (F), Fiat Chrysler Automobiles (FCAU), and NIO (NIO) fell 0.7%, 17.3%, 17.4%, and 8.7%, respectively, in the quarter. In contrast, TSLA has underperformed the broader market and all its peers in 2019 so far.
Article continues below advertisement
Tesla's plans in China
China is the world's largest auto market (BKF), including electric vehicles. In 2018, the country's total new car sales stood at 28.1 million vehicle units, down 2.8% YoY (year-over-year). According to a Reuters report, 2018 was the first year during which China's annual car sales fell since the 1990s.
In its third-quarter vehicle production and deliveries report, Tesla suggested that it had been facing headwinds due to ongoing US-China trade tensions. The company said, "Trade tensions have resulted in an import tariff rate of 40% on Tesla vehicles versus 15% for other imported cars in China."
To avoid these tariffs, Tesla signed an agreement with authorities in China to build its Gigafactory 3 in Shanghai. The construction work of this Gigafactory started in January 2019. In its Shanghai Gigafactory, Tesla plans to build battery packs as well as cars for Chinese and other international markets.
Top analysts' opinions
According to Morgan Stanley analysts, "China stands out as an intense area of focus [for Tesla] for which we continue to apply little long term or terminal value for in our calculations," Business Insider reported last week. The report also quoted JPMorgan Chase analyst Ryan Brinkman saying that in China, "Tesla is going to have source components locally perhaps more so than they would otherwise have been inclined to do."
Despite all the hurdles it faces in China, Tesla can't afford to lose its huge opportunity in the country at the moment. The company's CEO, Elon Musk, expects the Shanghai-based Gigafactory to start producing the Model 3 by the end of 2019 and to reach high-volume production in 2020.
In the next article, we'll take a look at Wall Street analysts' consensus ratings on Tesla.