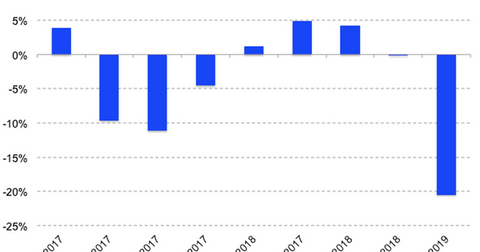 The Latest on the Ongoing Qualcomm-Apple Legal Battle
By Sanmit Amin

Updated
Qualcomm is urging the ITC to ban US iPhone imports
Qualcomm (QCOM) and Apple (AAPL) remain embroiled in a legal battle that has gone on for two years now. Qualcomm continues to urge trade regulators to impose a US import ban on Apple's smartphones. The chip maker claims that the iPhones were infringing one of Qualcomm's patents.
Qualcomm has already been successful in stifling Apple. Bans on iPhones with Intel's (INTC) chips have been implemented in China and Germany.
Article continues below advertisement
In fact, the US International Trade Commission was in favor of the chip maker in the patent battle, but it decided against the US bans, as they would have given Qualcomm a monopoly in the United States for the modems that help smartphones connect to wireless networks. However, this decision remains in review.
Qualcomm has been struggling to grow due to its battle with Apple
The chip maker is now urging trade regulators to impose a US ban because it thinks that Apple's fix for the issue, which is developing software to avoid infringing Qualcomm's patent, defeats the commission's reasoning for not imposing a ban.
Qualcomm has been suffering over the last two years as it's remained mired in lengthy legal battles with its biggest client, Apple, which has fit Intel chips in its iPhones. Qualcomm stock has fallen 18% in the past year.