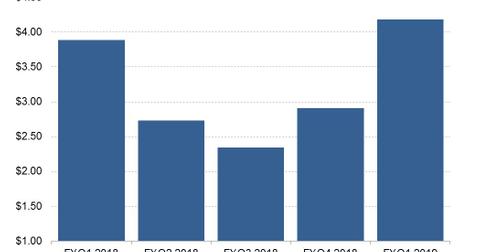 The $63 Billion Balance in Apple's Repurchase Program
By Ruchi Gupta

Updated
$37.3 billion spent as of end of 2018
Article continues below advertisement
Share repurchases worked wonders
Apple reported record-high EPS for the December quarter, which is its first quarter of fiscal 2019 despite declines in revenue and profit for the period. Apple's revenue fell 5.0% YoY to $84.3 billion in the December quarter. Profit declined about 0.5% YoY to come slightly below $20 billion. Still, the company delivered an all-time high EPS of $4.18 for the quarter, an increase of 7.5% YoY. How was this possible? Apple's share repurchase program played a role here. Since repurchase programs reduce the number of outstanding shares, they allow companies to post higher EPS even without an increase in profit. And that's what worked out so well for Apple in the latest quarter.
Companies line up large repurchase programs
Several other technology companies have lined up large repurchase programs. Facebook (FB) boosted its repurchase program by $9.0 billion in December, while Alphabet (GOOGL) announced an $8.6 billion repurchase program at the beginning of 2018. Qualcomm (QCOM) said it would repurchase up to $30 billion of its shares after calling off its plan to acquire Dutch chipmaker NXP Semiconductors (NXPI). IBM (IBM) last year added $4.0 billion to its repurchase program.