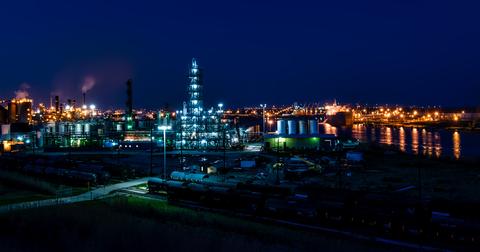 Surge in Refining Margins Drove Phillips 66's Stellar Q4 Earnings
By Maitali Ramkumar

Updated
Phillips 66's Q4 2018 estimated and actual performance
Phillips 66 (PSX) posted its Q4 2018 results on February 8. Let's examine Phillips 66's Q4 2018 performance versus its estimates. Phillips 66's fourth-quarter revenues of $29.8 billion surpassed Wall Street analysts' estimate by about 5%. Also, Phillips 66's adjusted EPS stood at $4.9 in Q4 2018, which exceeded Wall Street analysts' estimated EPS of $3.0. Since Q4 2015, this is Phillips 66's highest quarterly adjusted EPS. Also, the company's fourth-quarter adjusted EPS rose by 355% YoY.
Article continues below advertisement
Phillips 66's Q4 2018 earnings review
Phillips 66's adjusted net income attributable to its shareholders rose from $0.5 billion in Q4 2017 to $2.3 billion in Q4 2018. This rise was due to higher adjusted pre-tax earnings. Phillips 66's adjusted pre-tax earnings rose due to a year-over-year rise in the Midstream, Refining, and Marketing (Marketing and Specialties) segments' earnings, partially offset by a fall in the Chemicals segment's earnings.
Phillips 66's (PSX) Refining earnings rose 294% YoY to $2.0 billion in Q4 2018. Higher refining margins led to better earnings. Phillips 66's realized refining margins rose by 84% YoY to $16.5 per barrel in Q4 2018. Central Corridor's refining margins almost doubled to $30.6 per barrel in the fourth quarter. The Wider Bakken, Canadian, and inland crude oil spreads pushed up the refining margin.
Also, Phillips 66's adjusted Midstream earnings rose by 109% YoY to $409 million in Q4 2018. Plus, Phillips 66's adjusted Marketing earnings increased by 252% YoY each in Q4 2018. However, PSX's Chemical earnings fell by 6% YoY.
In the fourth quarter, Phillips 66 returned $864 million to shareholders in the form of dividends ($367 million) and share repurchases ($497 million).