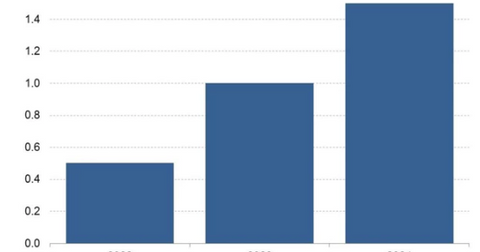 Sprint Sues AT&T for Deceptive Marketing Campaigns
By Ruchi Gupta

Updated
Deceptive marketing tacts
Deception appears to be the new tactic as wireless companies seek to get a competitive edge in the race for customers. Sprint (S) has recently taken issue with the way AT&T (T) has branded itself by telling customers they are receiving 5G service. According to the fourth largest carrier, that is not the case, as AT&T is only marketing an upgraded version of 4G LTE. Sprint has since sued the second largest carrier, as it seeks to prevent AT&T from using the 5G tags in its marketing campaigns.
Article continues below advertisement
In its defense, AT&T insists that the use of the "5G E" moniker is intended to indicate that it is the only carrier offering data speeds that are faster than the standard LTE. The carrier's argument doesn't seem to hold any water given that the carrier had an option of using 4G LTE Advanced Pro instead of 5GE.
Race for 5G customers
The deceptive marketing tactic underscores the state of the wireless industry in the United States. Verizon (VZ) with a market cap of about $201 billion and AT&T with a market cap of about $198 billion are no longer at ease amid the soaring competition threat. The use of deceptive tactics has allegedly cost Sprint, as consumers have ended up signing up for AT&T services on the promise of fast data speeds on 5G networks.
A transition from 4G to 5G networks should result in fierce competition in the race for customers. Charter Communications (CHTR) is another company that has set sights on 5G networks as it looks to lure in more customers from rivals. The company is currently testing 5G networks in six markets as it seeks to be a key player in the video streaming business.
A proposed merger between T-Mobile (TMUS) and Sprint will likely lead to even more intense competition in the wireless sector. The combined company will have a market value of about $140 billion expected to take the race for customers to another level.
A merger between T-Mobile and Sprint should put them in a position to take on Verizon and AT&T as opposed to when they are operating as standalone companies. However, the use of false advertising campaigns threatens fair competition.