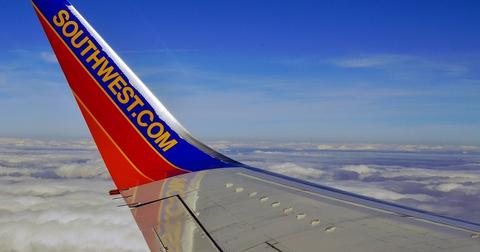 Southwest Warns Mechanics to Get Back to Work or Risk Termination
By Anirudha Bhagat

Updated
Operational emergency
In a strongly worded memo, Southwest Airlines (LUV) told its mechanics to get back to work or risk termination, CNBC reported on February 15. The company issued this harsh memo after it faced an unusually high number of grounded jets on February 15, forcing it to declare an operational emergency.
The company usually expects 20 planes to be out of service due to unexpected maintenance issues every day. However, citing data from flight-tracking site FlightAware, CNBC revealed that Southwest Airlines canceled as many as 100 flights on February 15 and 39 on February 16—more than any other air carrier. The company didn't disclose how many of these flights had been canceled due to maintenance issues and how many had been canceled due to bad weather.
Article continues below advertisement
According to news sources, the memo was sent to employees at Southwest Airlines' maintenance bases at Las Vegas, Phoenix, Houston, and Orlando. In the memo, the airline said that those alleging illness must bring a doctor's note when returning to work, or they may lose their jobs. The company has also put on hold all shift trades and vacation requests unless they've already been approved.
Labor dispute may worsen
Southwest has been in contract talks with its employees since 2012. The pilots' and flight attendants' unions have approved new contracts, but the mechanics' union hasn't accepted one yet.
In September 2018, the mechanics' union rejected a five-year contract offered by the company. The high absenteeism in the maintenance department is believed to be a result of the ongoing dispute between Southwest and its mechanics, which is hampering the company's daily operations.
Article continues below advertisement
Southwest Airlines' latest stern memo may worsen its ongoing labor dispute with its mechanics. After the airline's memo, the Aircraft Mechanics Fraternal Association, the mechanics' union, said that this is an emergency of the company's own making. The emergency status may also negatively affect employees due to fatigue issues.
Therefore, if the company doesn't resolve the labor dispute with its mechanics soon, it could encounter the same situation in the future. A higher number of grounded jets would hurt its revenue growth, the effect of which would be seen in its bottom line results.
To gain exposure to Southwest Airlines, you can invest in the iShares Transportation Average ETF (IYT), which has allocated 3.2% of its funds to the stock. The ETF has also invested 4.9%, 3.1%, and 2.1% of its holdings in United Airlines (UAL), Delta Air Lines (DAL), and American Airlines (AAL), respectively.