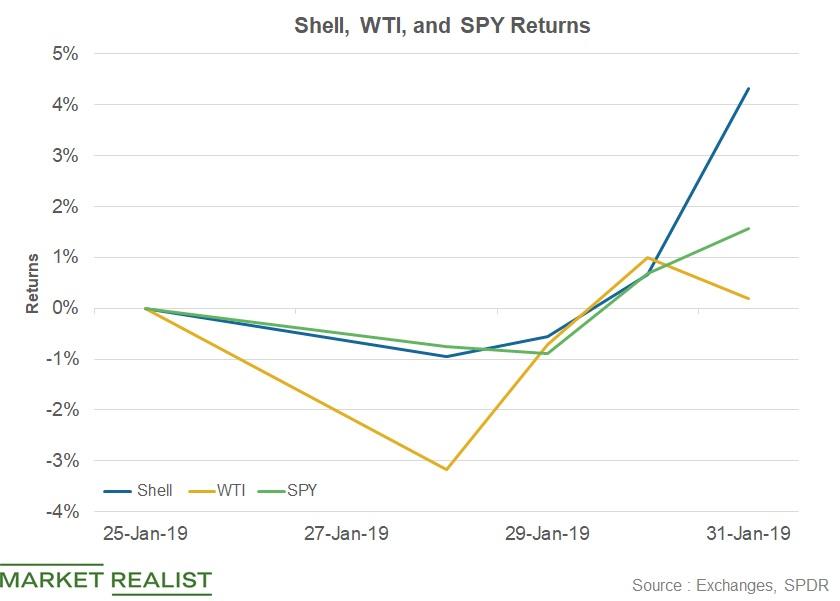 Shell Stock Up 4% after Earnings Release
Shell stock performance
Royal Dutch Shell (RDS.A) announced earnings on January 31, 2019, before the market opened. Shell stock reacted positively to the better-than-expected earnings. The stock closed at $61.7, around 3.6% higher than the previous day's close. Also, on the day, equity markets surged. Plus, Shell's peers rose. But oil prices dropped on the day.
Prices of WTI (West Texas Intermediate) oil fell by 0.8% on January 31. However, the SPDR S&P 500 ETF (SPY), which represents the S&P 500 Index, rose by 0.9% on the day. Shell's peers ExxonMobil (XOM) and Suncor Energy (SU) rose by 1.4% and 0.2%, respectively, on January 31. Also, Chevron (CVX), Total (TOT), and BP (BP) rose by 1.5%, 1.0%, and 1.1%, respectively, on the day.
Article continues below advertisement
Shell's Q4 2018 update
Shell continued its growth activities in the quarter. In Q4 2018, Shell incurred a total capital investment of $8.0 billion compared to $6.8 billion spent in Q4 2017. Of the total investment in Q4 2018, $4.0 billion was in the Upstream segment, $2.4 billion was in the Downstream segment, and $1.5 billion was in the Integrated Gas segment.
Shell has continued to restructure its upstream portfolio in the quarter. The company successfully divested its stake in upstream assets in Ireland as well as its Draugen and Gjøa fields in Norway.
Further, Shell renewed oil mining licenses in the Niger Delta for 20 years. The company also announced the opening of wells in its floating LNG facility off the shore of Prelude, Australia. Plus, Shell announced the start-up of its fourth alpha olefins unit at its Geismar plant, which is one of the largest alpha olefins manufacturing plants globally.
Moreover, Shell announced the third tranche of its $25 billion share buyback program. The company is expected to buy up to $2.5 billion worth of shares up until April 29, 2019, which follows the first and second tranches, whereby $4.5 billion of aggregate shares were repurchased.