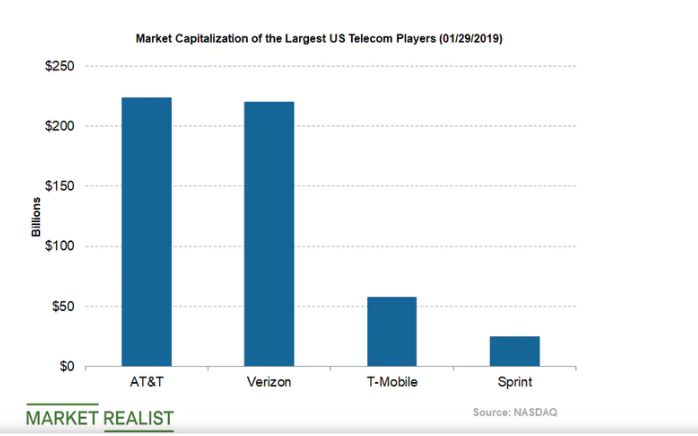 Rattled by T-Mobile Threat, AT&T Acquires NBA Rights
By Ruchi Gupta

Feb. 26 2019, Updated 10:30 a.m. ET
AT&T's marketing drive
Verizon Communications (VZ) is without a doubt the biggest wireless company in the United States given its coverage and market share. However, the company's market position is under immense pressure as rivals continue to strengthen their competitive edge. Concerned by the threat from T-Mobile (TMUS), which is the third largest carrier, AT&T (T) has embarked on an aggressive marketing campaign.
Article continues below advertisement
NBA rights
The second-largest carrier has consequently overthrown Verizon and taken over as the lead sponsor of the NBA as part of its new marketing drive. AT&T plans to use the opportunity to market its products and draw in new customers given its marketing rights for USA Basketball, NBA, WNBA G League, and the NBA 2K League.
The marketing drive does not come as a surprise given that AT&T is also under immense pressure to cement its edge in the wireless sector. T-Mobile poses the biggest threat to the carrier given that it is in the process of acquiring Sprint (S), a move that will create a combined company with an enterprise value of about $140 billion.
In a bid to fend off the threat posed by T-Mobile, AT&T says it will work with the NBA to develop new opportunities and events for bringing fans together. In return, the company hopes to draw in new customers to its products, especially broadband. "Connecting with these audiences through a great brand like the NBA allows us to grow customer relationships and create more memorable experiences at a game, at home, or on the go," said Fiona Carter, the chief brand officer for AT&T Communications.
Article continues below advertisement
Race for customers
A merger between T-Mobile and Sprint would result in a combined company with more than 120 million customers, allowing the company to narrow the gap between it and AT&T, which has a customer base of about 142 million. With a customer base of about 150 million, Verizon will also feel some pressure given the rate at which T-Mobile is growing.
United States Cellular (USM) is another wireless company gunning for market share and customers in the sector. Last year alone the company invested over $10 million to boost its voice and data network in Missouri as part of its expansion drive.
However, AT&T can heave a sigh of relief, as its investments on IoT-specific networks could strengthen its competitive edge going forward. The company holds the lead with about a 50% market share when it comes to IoT exposure on connected cars as well as machine-to-machine or industrial IoT. The company has also struck IoT deals with over 136 companies touching on various sectors.
Demand for LTE networks as well as plans able to support connected devices is on the rise, an area where the two biggest carriers have invested a lot.