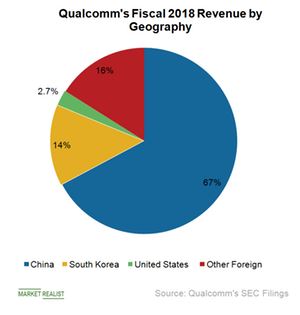 Qualcomm to Pay $200 Million Fine to Korea after Ten-Year Appeal
By Puja Tayal

Nov. 20 2020, Updated 4:59 p.m. ET
Qualcomm's tussle with Korea FTC
Qualcomm's (QCOM) business practices have come under regulatory scrutiny in various countries including China, South Korea (EWY), Europe, and the United States. In December 2016, the KFTC (Korea Fair Trade Commission) imposed a fine of $853 million on Qualcomm, as it found the chip supplier's licensing practices to be monopolistic. Qualcomm has appealed the fine, and the case is still pending.
However, the Korean Supreme Court recently ruled on an earlier trial involving a fine of $242 million the KFTC (Korea Fair Trade Commission) imposed on Qualcomm in 2009.
Article continues below advertisement
About the 2009 lawsuit
In 2009, KFTC fined Qualcomm for antitrust actions taken from 2000 to 2009. The Commission accused Qualcomm of offering smartphone companies like Samsung (SSNLF) and LG incentives for using more than a certain amount of its chips. Qualcomm refused to pay the fine and appealed against it in the Seoul High Court, which found the chipmaker guilty in 2013 and ruled that KFTC's fine was just and fair.
Qualcomm then appealed to the Korean Supreme Court. On February 11, 2019, the Supreme Court found Qualcomm guilty and ruled that it should pay at least a $180 million fine, and that it can appeal against the remaining $62 million fine at lower courts.
This $62 million fine appeal could be because the Supreme Court had a different ruling for Qualcomm's contract with LG. In 2013, the Seoul High Court ruled that Qualcomm's incentives to LG undermined fair competition. But the Supreme Court judge ruled that the increasing use of Qualcomm chips didn't undermine fair competition as LG's smartphone market share from 2006 to 2008 was below the 40% level, which isn't the majority.
What the Korean Supreme Court's ruling means to Qualcomm investors
As per the Supreme Court ruling, Qualcomm will have to pay a $180 million fine, which would reduce its GAAP (generally accepted accounting principles) net income and FCF (free cash flow). Qualcomm's FCF is already at a multiyear low with fiscal 2019 first-quarter FCF at $204 million.
Moreover, the above ruling could influence another court ruling related to the $853 million fine KFTC imposed in 2016 and a US FTC ruling that again relates to Qualcomm's incentives to handset makers that disrupt the competition.
We'll look at the Qualcomm-US FTC case next.
Check out all the data we have added to our quote pages. Now you can get a valuation snapshot, earnings and revenue estimates, and historical data as well as dividend info. Take a look!