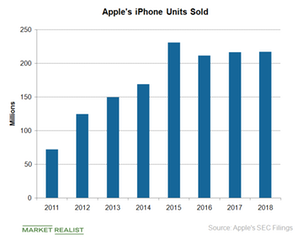 Qualcomm-Apple Case to Head to Court in April
By Puja Tayal

Updated
Qualcomm-Apple licensing argument
Apple (AAPL) is playing a key role in Qualcomm's (QCOM) trial with the US FTC (Federal Trade Commission). The judge will take some time to make a ruling. This ruling will significantly influence Qualcomm's licensing dispute with Apple, which is scheduled to go to trial in April as the two lawsuits have several overlaps.
In January 2017, Apple filed a lawsuit against Qualcomm, accusing the latter of charging royalties on technology that has nothing to do with it. The iPhone maker directly attacked Qualcomm's device-level licensing model and asked for component-level licensing. Qualcomm defended its model, stating that it charged royalty on the end-device price, as its technology connects the iPhone to high-speed-data networks and contributes much more than what it charges as royalties.
Article continues below advertisement
Qualcomm's US FTC and Apple lawsuits have a lot in common
At the US FTC trial, Apple's chief operating officer, Jeff Williams, stated that a $7.5 licensing fee might seem pretty small compared to the iPhone's average selling price of $793, but it adds up to more than a billion dollars due to the high volume of shipments.
Amid the ongoing dispute, Apple stopped paying the licensing fee to Qualcomm in June 2017. The chipmaker claims that unpaid royalties have piled up to $7 billion. Apple ditched Qualcomm's modems for Intel's (INTC) modems in its 2018 iPhone models, while Qualcomm continued to provide modems for some older iPhones.
According to Fortune, Jeff Williams testified at the FTC trial that it was forced to exclusively use Intel's modems for its 2018 iPhone models as Qualcomm refused to supply modems for the new iPhones. He referred to the "no licensing, no chips" agreement FTC accused Qualcomm of.
Did Qualcomm refuse to supply chips to Apple? 
It's unlikely that Qualcomm would refuse to supply modems to Apple, as the loss of these orders reduced Qualcomm's fiscal 2019 first-quarter revenue by 20% YoY and its stock by 30% since September 2018 when Apple launched its 2018 iPhones. In its argument in the US FTC case, Qualcomm president Cristiano Amon stated that the company has been making efforts to win new business from Apple. Next, we will look at Qualcomm's counterattack on Apple.
Check out all the data we have added to our quote pages. Now you can get a valuation snapshot, earnings and revenue estimates, and historical data as well as dividend info. Take a look!