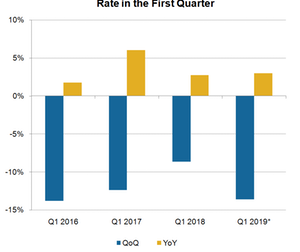 Opportunities and Risks for Intel's Client Computing Business
By Puja Tayal

Updated
Intel's CPU supply shortage continues into 2019
Previously, we saw that Intel (INTC) had increased its CCG (Client Computing Group) revenue by targeting higher-priced commercial and gaming PCs and increasing its share in the modem market with orders from Apple (AAPL).
Intel is currently facing a CPU (central processing unit) supply shortage, as PC and server demand surged at a time when the company was transitioning its production lines to the 10 nm (nanometer) node. The company is increasing its capacity to meet the demand for 14 nm products. It has allocated $15.5 billion in capital spending for 2019. The first priority of this capital is to increase 14 nm capacity, and the second priority is to ramp up the production of the 10 nm node. Intel expects the supply shortage to end by mid-2019.
Article continues below advertisement
Client Computing revenue estimate for the first quarter of 2019
The first quarter is seasonally weak for Intel's PC business as holiday season sales fade. CCG revenue normally falls in the low teens sequentially in the first quarter. Most semiconductor companies expect a higher-than-normal seasonal decline in the first quarter of 2019 as the US-China trade war slows demand and piles up semiconductor inventory.
However, the CPU shortage at Intel has pushed workstation CPU sales to the first quarter of 2019, which could offset the greater-than-normal declines from consumer PCs and modems. We expect Intel's CCG revenue to fall 13.6% sequentially but rise 3% YoY (year-over-year) to $8.46 billion.
Risk of oversupply
However, demand uncertainty poses a risk of oversupply for Intel, which is increasing its capacity. If there is a sudden decline in demand, the channel will be flooded with excess CPU inventory, and retailers will be forced to clear the inventory at discounted prices. Such an oversupply situation could reduce Intel's overall revenue in the double digits, as PC sales contribute more than 50% of the company's revenue.
Discrete GPU (graphics processing unit) leader NVIDIA (NVDA) is currently going through a similar situation. A sudden fall in cryptocurrency-related demand created excess GPU inventory, which took gamers time to absorb. This oversupply of gaming GPUs, from which it earns more than 50% of its revenue, is expected to reduce the company's fiscal 2019 fourth-quarter revenue by 24% YoY.
Next, let's look at Intel's data center business.