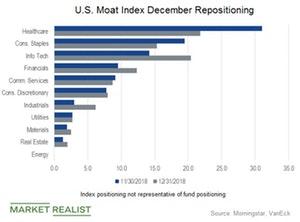 Moat Index: Dramatic Sector Allocation Shift in 2018
By VanEck

Feb. 13 2019, Updated 12:55 p.m. ET
VanEck
New Year, New Positioning
The U.S. Moat Index is reviewed quarterly to ensure the Index is allocated to companies that Morningstar believes possess a sustainable competitive advantage and, just as importantly, are among the most attractively priced of those companies. Following the market sell-off in the fourth quarter, the U.S. Moat Index's December review resulted in its most dramatic sector allocation shifts of the year.
The Index pared its exposure to healthcare and consumer staples companies while adding to its information technology, financials, and industrials exposure.
Article continues below advertisement
Healthcare was the top sector contributor to returns of the U.S. Moat Index for the year and saw its weighting adjusted in December accordingly as several companies no longer represented a valuation opportunity. Interestingly, communications services and consumer discretionary companies were the second and third best contributors, respectively, in 2018 but both maintained similar exposure in the Index.
Market Realist
US moat index's performance in 2018
The VanEck Vectors Morningstar Wide Moat ETF (MOAT) allows investors to invest in US stocks with a wide moat rating. MOAT trades at a discount to Morningstar analysts' fair value estimates following a staggering rebalance approach. MOAT is divided into two sub-portfolios. One of the sub-portfolio reconstitutes in December and June, while the other sub-portfolio reconstitutes in March and September.
The healthcare sector dominated the sector weighting for the Morningstar Wide Moat Index in 2018. The sector, as tracked by the S&P 500 Healthcare Index, returned ~5% in 2018 compared to the S&P 500 Index's loss of 6.2%. Despite the consumer staples and consumer discretionary sector's performance in 2018, some of the companies in these sectors also contributed to the index's performance last year.
According to a FactSet report on December 21, the healthcare sector is expected to report the second-highest (year-over-year) revenue growth of 7.8% in 2019. Despite the contribution of healthcare and consumer and communication stocks to the index's performance last year, the index removed its exposure to healthcare stocks and a few consumer stocks during the sub-portfolio reconstitution in December. The healthcare stocks that were removed from the index in December included Eli Lilly (LLY), Express Scripts Holding (ESRX), Merck (MRK), Amgen (AMGN), CVS Health (CVS), and Pfizer (PFE).