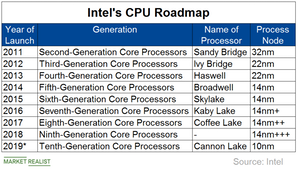 Intel's New CEO's Plan to Tackle Various Challenges
By Puja Tayal

Nov. 20 2020, Updated 5:25 p.m. ET
The 10 nm challenge
Intel's (INTC) new CEO has been a hot topic. Now that the company has appointed its CFO and interim CEO, Bob Swan, as its new CEO, investors want to know about his plans to tackle the most pressing issue at hand: bringing the 10 nm (nanometer) node into production.
Intel delayed its 10 nm node by four years, making way for rival foundries TSMC (TSM) and Samsung (SSNLF) to move ahead with their 7 nm nodes.
Article continues below advertisement
Demand-supply imbalance
As Intel started transitioning its production lines to the 10 nm node in the second half of 2018, PC and server demand picked up, causing a supply shortage of 14 nm products. Intel was forced to prioritize production of high-end server and PC chips, leaving the mid- and low-end processor markets to Advanced Micro Devices (AMD).
Intel is increasing its 14 nm capacity to meet demand, but overall economic demand is slowing, posing a risk of excess supply. If Intel increases its supply and there is no demand, it will lead to excess inventory and revenue falls. Rivals AMD and NVIDIA (NVDA) are facing excess GPU (graphics processing unit) inventory in the channel, as demand dropped when they increased their supplies in the first half of 2018. This oversupply significantly reduced the companies' GPU revenues in the second half of 2018.
Competition
Intel is facing competition from AMD in the PC space. Qualcomm (QCOM) is also making its entry into the laptop processor market. Although Qualcomm's system-on-chip currently lags in many areas, it could gradually catch up and penalize Intel for its slow progress in the PC space.
Bob Swan's plan for Intel
Swan told Reuters that Intel would continue to manufacture high-performance flagship CPUs (central processing unit), for which it has a technical advantage. However, he stated that the company might outsource the manufacturing of other chips used in autonomous vehicles and AI given the capital-intensive nature of the industry.
Addressing the question around his lack of technical expertise, Swan told Reuters that Intel has a rich pool of technical talent, and his role is to use this talent to move forward. Next, we'll see how Swan improved Intel's operating efficiency during his tenure as interim CEO.