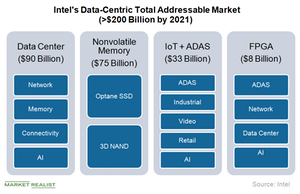 Intel to Tap a More than $200 Billion Data-Centric Opportunity
By Puja Tayal

Updated
Intel's extended total addressable market
This year marks the start of a new chapter for Intel (INTC) as it brings on next-generation products that will power the future data economy.
It's set to launch some of its technologies in AI, 5G, and AVs (autonomous vehicle) in the second half of 2019.
Article continues below advertisement
Artificial intelligence
In the AI space, Intel is seeing the growing adoption of its open-source toolkit, OpenVINO, for neural network optimization and AI-based computer vision. This adoption is increasing, as almost all IoT (Internet of Things) verticals—from industrial drones to security cameras—use AI-based computer vision. Intel also provides vision-processing units and field-programmable gate arrays for AI-based computer vision.
Apart from providing software and hardware to collect data and create a neural network, Intel has also developed the NNPI (Nervana neural network processor for inference), which will use what it learns from collected data to work on new data. The company plans to bring NNPI to the market this year. NNPI will compete with NVIDIA's (NVDA) TensorRT inference platform.
Intel is also developing its own discrete GPU (graphics processing unit), and this project is being headed by Raja Koduri, former GPU head at Advanced Micro Devices (AMD). Koduri stated that the future of gaming is "photorealistic immersive worlds," which will involve real-time ray tracing. This statement indicates that Intel is working toward bringing real-time ray tracing to its GPUs. AMD is also working on ray tracing. On the other hand, NVIDIA has already launched real-time ray tracing in its Turing architecture.
Article continues below advertisement
5G
On the 5G front, Intel plans to start production of its 10 nm (nanometer) network system-on-chip, code-named Snow Ridge, and its 5G modem, XMN 8165, in the second half of 2019.
Autonomous driving
Mobileye's products are being used in open advanced driver-assistance systems and AV compute platforms. Intel is also monetizing Mobileye's products beyond AV into road experience management, wherein it will help utilities manage infrastructure by providing data collected from EyeQ4 chips fitted in consumer vehicles.
Intel has expanded its data-centric addressable market from $160 billion at the start of 2018 to more than $200 billion by monetizing its technology in supporting functions.