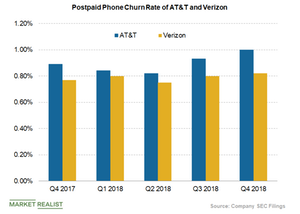 Inside the Postpaid Phone Customer Additions of AT&T and Verizon
By Sophia Nicholson

Updated
Customer additions in the fourth quarter
AT&T (T) reported solid wireless net additions of 3.8 million North American subscribers in the fourth quarter, including 2.8 million subscriber additions in the United States and 1 million additions in Mexico. AT&T's wireless customer additions were driven by strong postpaid phone customer gains, continued prepaid phone growth, and improvements in connected devices and smartphone customer additions.
In the fourth quarter, Verizon (VZ) added a net 1.13 million retail customers driven by 1.22 million retail postpaid customer additions.
Article continues below advertisement
AT&T and Verizon added subscribers
Verizon added ~11,000 tablet customers and 556,000 wearables customers in the quarter. Verizon also reported postpaid smartphone net additions of 873,000, higher than its additions of 510,000 in the preceding quarter and 647,000 in the previous year's quarter. Its postpaid phone subscriber additions were 653,000 in the fourth quarter, beating Wall Street's estimate of 355,600 postpaid phone additions and its 295,000 postpaid phone additions in the third quarter. Postpaid customers are considered more profitable to mobile operators than prepaid customers.
AT&T added net 134,000 postpaid phone subscribers but fell far short of analysts' estimate of 208,000 in the fourth quarter. AT&T's prepaid customer additions totaled 26,000. The company gained 304,000 postpaid smartphone customers, while it added 467,000 branded smartphone customers in the quarter. DIRECTV NOW, AT&T's streaming service, also saw higher-than-expected subscriber losses of 267,000. Satellite TV provider DIRECTV also lost 403,000 customers, higher than Wall Street's estimate of 328,000 customer losses.
Telecommunications rival Sprint (S) has been focusing on its merger with T-Mobile (TMUS), which is expected to boost its subscriber base and strengthen its fight against the top two wireless carriers in the country, Verizon and AT&T.