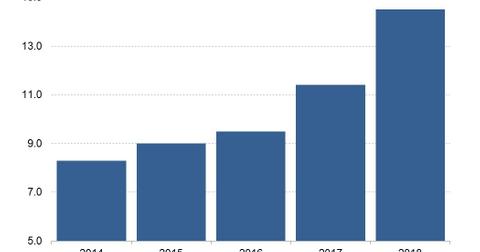 How Would a No-Deal Brexit Affect Amazon?
By Neha Gupta

Updated
Sellers advised to prepare for a no-deal Brexit
The United Kingdom is scheduled to leave the European Union on March 29 in what has come to be known as Brexit. The nation has been working to secure some trade deals with the remaining EU members before it leaves the bloc, but there have been challenges on that front, raising fears the country may have to break away without a deal.
A no-deal Brexit would significantly alter how the United Kingdom relates with EU member countries in terms of trade. Aware of the risk lying ahead, Amazon (AMZN) has advised the UK businesses that sell through its platform to prepare for a no-deal Brexit, the BBC reported.
Article continues below advertisement
$14.5 billion in UK revenue
At the moment, goods can move freely across EU countries, meaning Amazon sellers in the United Kingdom can ship goods to any destination in the European Union. A no-deal Brexit would end that free movement of goods, meaning Amazon sellers with goods stored in UK warehouses would not be able to ship them freely to customers in other EU countries.
To cope with the potential no-deal Brexit, Amazon is telling its sellers in the United Kingdom to consider stocking some goods outside the country to ensure that they can continue meeting demand for their items in a no-deal scenario—at least in the short term. Amazon generated $14.5 billion in revenue in the United Kingdom in 2018, representing 22% of its total international revenue, which hit $65.9 billion in the year. International operations contributed 28% of Amazon's overall revenue in 2018. International operations contributed 60% of revenue at eBay (EBAY) in 2018. Alphabet (GOOGL), Facebook (FB), and Twitter (TWTR) generated 54%, 51%, and 47% of their revenues from international operations in 2018, respectively.