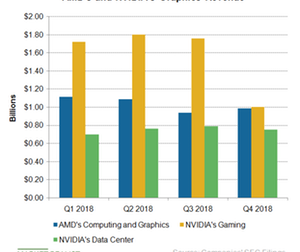 How Will 2019 Shake Out for AMD's Radeon GPU Business?
By Puja Tayal

Updated
AMD's take on excess GPU inventory
Advanced Micro Devices' (AMD) fourth-quarter graphics revenue fell YoY (year-over-year) due to excess GPU (graphics processing unit) inventory, which also hit NVIDIA (NVDA).
On AMD's fourth-quarter earnings call, CEO Lisa Su stated that there had been a sell-off in GPU inventory, indicating that gamers were buying GPUs. However, she added that the company's first-quarter GPU inventory levels were still high, and the excess inventory could spill over into the second quarter. She expects the GPU inventory to normalize in the second quarter and AMD to report sequential revenue growth from consumer GPU sales.
Article continues below advertisement
Looking at the GPU buying trend, Su stated that gamers are more price sensitive in the weak economic environment, which could see demand softness in the high-end market. However, she is optimistic that the company's new 7 nm (nanometer) Radeon GPUs for consoles, PCs, and the cloud will drive demand and boost GPU prices.
AMD has already launched its 7 nm Radeon VII GPU for high-end PC gamers, and Su confirmed that the company would launch its 7 nm Navi GPU for game consoles later in 2019.
Can AMD's Radeon Vega VII compete with NVIDIA's RTX?
Official benchmarks confirmed that AMD's Radeon VII delivers a similar gaming performance to that of NVIDIA's latest GeForce RTX 2080 for $100 less. However, Radeon VII lacks the real-time ray tracing and deep learning super-sampling technology offered by NVIDIA's RTX.
A lack of ray tracing shouldn't affect AMD's Radeon VII sales, as a proper ecosystem supporting ray tracing technology isn't in place, which has slowed the adoption of RTX GPUs. Even NVIDIA admitted that the sales of its RTX GPUs were slower than expected. AMD is developing its own ray tracing technology that could hit the market when the adoption of this technology picks up.
Radeon in the data center space
In the fourth quarter, AMD started shipping its 7 nm Radeon Instinct GPU for data centers and introduced major enhancements to its data center GPU software to ease the deployment of its Radeon GPUs for AI and machine-learning workloads. The Radeon Instinct GPU secured major data center design wins, including one from Google (GOOG) for its game-streaming initiative, Project Stream.
For 2019, Su expects consumer GPU sales to fall in the double digits as the company burns off its excess GPU inventory in the first half.
Next, we'll look at AMD's Enterprise, Embedded, and Semi-Custom segment.