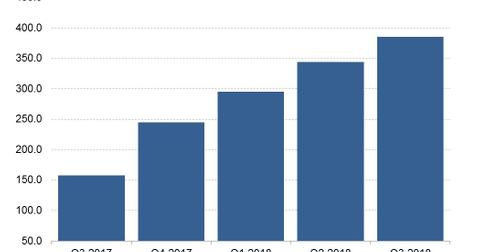 How PDD Can Win New Customers in 2019
By Ruchi Gupta

Updated
Pinduoduo launches a subsidy program
Pinduoduo (PDD), a rising star in China's e-commerce industry, is planning to spend more than $73 million this year on a subsidy program aimed at attracting low-income consumers to its platform to purchase high-quality branded products, according to a report from Chinese news agency Xinhua.
Pinduoduo has partnered with more than 100 brands in categories such as food and consumer electronics for the subsidy program.
Article continues below advertisement
Curbing trade in counterfeits
In addition to using the subsidy to attract new customers to its platform, Pinduoduo also hopes the program will help it curb trade in counterfeit goods on its platform. Trade in counterfeit goods is a huge drain on legitimate brands and a big risk to the reputation and operations of e-commerce companies that host third-party sellers on their marketplaces. According to ResearchAndMarkets, legitimate brands lost $1.2 trillion in sales to counterfeits in 2017, and the loss could rise to more than $1.8 trillion by the end of 2020. For the first time ever, Amazon (AMZN) cited counterfeiting as a risk factor in its latest annual regulatory filing. Alibaba (BABA) also has had a long struggle with counterfeiting.
A 385 strong consumer base
Pinduoduo competes with the likes of Alibaba and JD.com (JD) for customers in China. It exited the September quarter with 385.5 million active buyers on its platform, compared to 305 million for JD and 601 million for Alibaba. eBay (EBAY) had 177 million active buyers at the end of the September quarter, and the number increased to 179 million at the end of the December quarter.