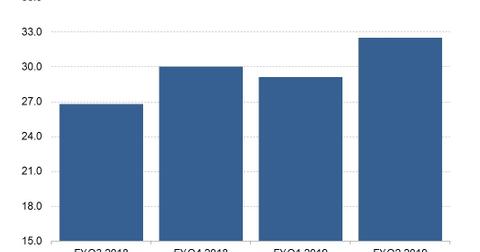 How Microsoft Is Approaching the AI Ethical Debate
By Ruchi Gupta

Updated
Microsoft explores the ethical use of AI
Earlier this month, Microsoft (MSFT) sent a top lawyer to the Vatican to discuss several matters with Pope Francis, according to Reuters. Microsoft's chief legal officer, Brad Smith, met at the Roman Catholic leader at his residence and discussed the ethical application of AI technology and ways to bridge the digital divide between the rich and poor.
Article continues below advertisement
Microsoft rooting for strong AI ethics
Microsoft, a global leader in AI research and use, is rooting for strong ethics and laws to prevent AI power from falling into the wrong hands. The company is a founding member of the PAI (Partnership on AI), a corporate group promoting the ethical use of AI. Last year, Baidu (BIDU) became the first Chinese company to join the group. Baidu is China's top Internet search engine provider, holding more than 71% of the market according to StatCounter.
Jobs loss fears
Microsoft and other PAI members such as Google (GOOGL) and Amazon (AMZN) operate AI research centers in China. According to The New York Times, China is seeking to become a leader in AI. But China's use of AI technologies could also raise a lot of ethical questions, given the country's notoriety for online information censorship. As Fortune reported in January, some experts have pointed out that the widespread adoption of AI could cause massive job losses. Microsoft looks keen to mitigate any risk to its reputation presented by AI.
Microsoft generated $32.5 billion in revenue and made $8.4 billion in profit in its second quarter of fiscal 2019 (ended December). Meanwhile, IBM's (IBM) profit was $2.0 billion.