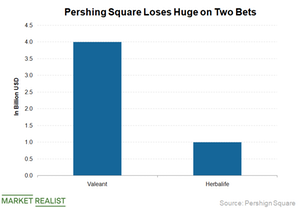 How Is Ackman Redeeming Himself after Herbalife and Valent?
By Anuradha Garg

Updated
Years of losses for Ackman
Pershing Square had a series of disappointing years, with losses of 20.5%, 13.5%, 4%, and 0.7%, respectively, in 2015, 2016, 2017, and 2018. Bill Ackman's costly stake in Valeant Pharmaceuticals (BHC) and his famous short bet on Herbalife (HLF) cost his fund a fortune.
Article continues below advertisement
Short bet on Herbalife
Ackman made his short bet on nutritional supplement company Herbalife (HLF) in December 2012. He accused the company of running a pyramid scheme and anticipated that its stock would fall to zero. Ackman even had a famous brawl with another investing titan, Carl Icahn, on CNBC in 2013 due to their differing views on Herbalife. The bet didn't turn out well for Ackman. When he started out with his bet against the company, its stock was trading at $45, and it had almost doubled when Ackman finally announced that he would make his exit in 2018. It's estimated that Ackman lost close to $1 billion on this bet.
Ackman's $4 billion mistake on Valeant Pharmaceuticals
Pershing Square bought Valeant Pharmaceuticals in 2015 at an average price of $196. After suffering huge losses, the fund sold its stake in the stock at $11 in March 2017. While Ackman was positive on the company, he told CNBC that he'd underestimated the damage and only realized the bad situation the company was in after joining the board. He said he had previously thought of exiting the stock, but he thought he could fix things. The estimated loss for Pershing Square from Valeant came to $4 billion—its worst investment ever. It led to losses of 16.7% and 10.2% for the fund in 2015 and 2016, respectively.
As we'll see in the next article, Ackman has partially redeemed himself after the huge losses Pershing suffered from these two bets. His fund is significantly outperforming the S&P 500 Index (SPY), the Dow Jones Industrial Average Index (DIA), and the NASDAQ Composite Index (QQQ) year-to-date. In the coming articles, we'll see which of the fund's holdings are leading to these gains.