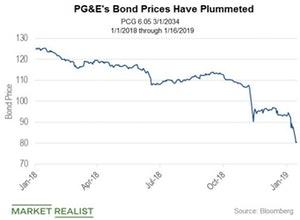 How Did PG&E Land among the 'Fallen Angels?'
By VanEck

Feb. 7 2019, Updated 9:55 a.m. ET
VanEck
From Fallen to "Failing"
One such situation occurred this month as a direct result of the very tragic wildfires that struck California over the last two years. Pacific Gas and Electric (PG&E), with nearly $18 billion in bonds1 in the ICE BofAML US Investment Grade Bond Index, is facing upwards of $30 billion in legal claims, which would render the utility insolvent. A series of downgrades by multiple agencies have brought the issuer's rating quickly down from a BBB- to C during just the first two weeks of January.2  The bonds are effectively fallen angels, or as ICE BofAML more aptly labeled them in a recent note, "failing angels." On January 14 the company announced that it would seek Chapter 11 protection as soon as January 29. On January 15, the company declined to make an interest payment due on one of its senior unsecured bond issues. PG&E's debt prices have fallen significantly.
Also on January 15, ICE BofAML announced that, although the bankruptcy filing date would fall after the preview date for its high yield indexes, PG&E's bonds would NOT be added to the ICE BofAML high yield indexes, including the US High Yield Index or the US Fallen Angel High Yield Index.
Article continues below advertisement
The indexer made this decision based on the very high likelihood that these bonds would no longer qualify for inclusion by the next index rebalancing at the end of February, because defaulted bonds are excluded from their high yield bond indices. It is somewhat unusual for an investment grade company to default without first entering the high yield market, and PG&E would join the ranks of companies like MF Global, Lehman Brothers, and Enron.
Market Realist
What is a "fallen angel"?
When stock market (SPY)(IVV) volatility rises, the bond market attracts investors' attention. The corporate bond market started 2019 on a good note. However, lately, fallen angels have attracted attention, and they could pose a more significant threat to the bond market this year.
Fallen angels are bonds downgraded to "junk" status from "investment-grade" status because of the declining financial position of its issuer. The bond is usually downgraded by one or more of Fitch, Moody's, or Standard & Poor's. A bond is generally downgraded when the issuer faces any financial problems. A CNBC article last month stated that high-yield bonds or junk status bonds have pulled in a lot of cash this year. The recent incident involved Pacific Gas and Electric (PG&E), which—after filing for bankruptcy—went straight from "investment-grade" to "default" without first landing on the fallen angel's bond list.
An overwhelming rise in fallen angels (ANGL) could disrupt credit markets, which we'll discuss in the next part of this series.