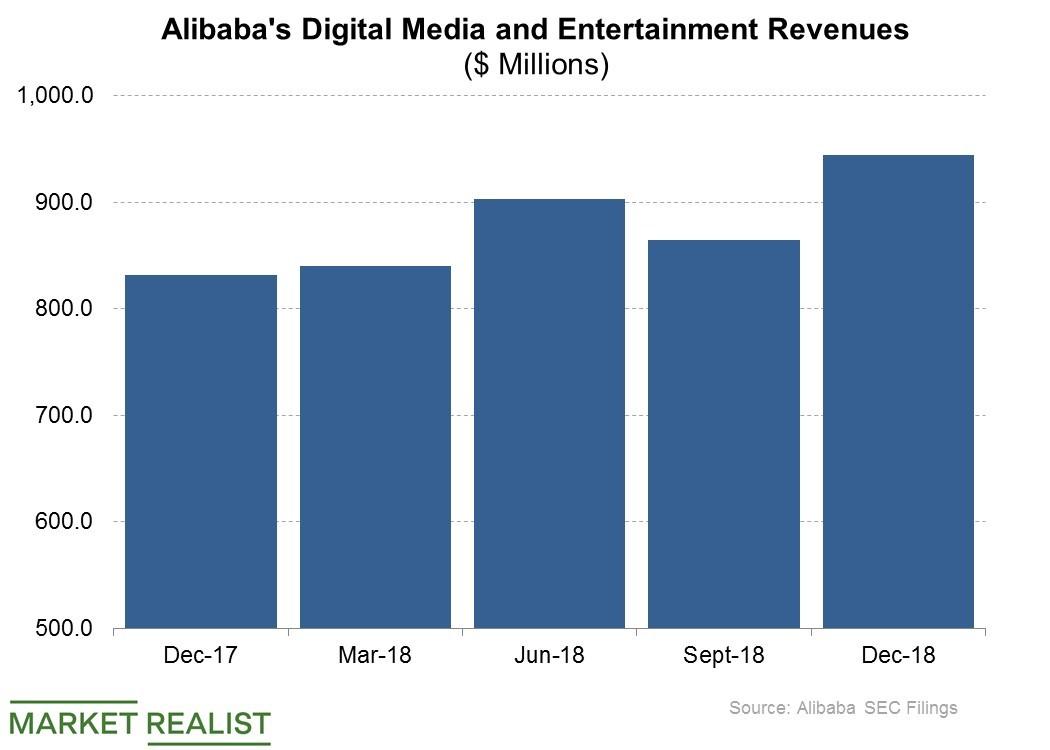 How Alibaba Is Keeping Alibaba Pictures Busy after Deal
By Neha Gupta

Feb. 12 2019, Updated 10:30 a.m. ET
Alibaba Pictures takes position in Tingdong Film
Alibaba (BABA) increased its stake in Alibaba Pictures late last year. Alibaba disclosed in a recent investor update that it now owns about 51% of the film studio business. The transaction that led to Alibaba raising its stake in Alibaba Pictures resulted in the film studio business consolidating as an Alibaba subsidiary.
Alibaba has kept Alibaba Pictures busy since tightening its grip on the business. Alibaba has also led Alibaba Pictures into several strategic deals in recent weeks. Alibaba Pictures invested an undisclosed sum for a 13.1% stake in Tingdong Film, Caixin Global reported. The transaction was disclosed in the middle of last month. Tingdong Film is a Shanghai-based film production house led by Chinese celebrity novelist Han Han. The investment is viewed as a way to give Alibaba Pictures increased participation in major film productions targeting key Chinese annual holidays.
Article continues below advertisement
Alibaba makes loan to Huayi Brothers
In another deal, Alibaba Pictures extended a $103 million loan to Huayi Brothers Media, a leading Chinese film studio, according to a report from Hollywood Reporter. In addition to the credit facility, Alibaba Pictures and Huayi entered a five-year pact where the companies will cooperate in a wide range of areas including marketing and distribution of films produced by Huayi. Alibaba and Tencent (TCEHY) own stakes in Huayi.
Media and entertainment revenue up 20%
Alibaba Pictures chief executive Luyuan Fan also doubles as the head of Alibaba's digital media and entertainment division. Alibaba generated $944 million in revenue from its media and entertainment division in the December quarter, an increase of 20% YoY.
Besides Tencent, Alibaba also competes with iQiyi (IQ) for revenue in China's digital media and entertainment sector. iQiyi last month teamed up with Ctrip (CTRP) on a premium membership program for their customers. Amazon (AMZN) is another e-commerce giant with deep interest in digital entertainment.